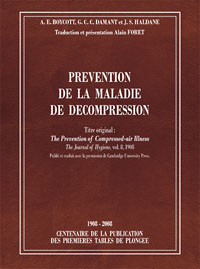 € 19.90
Publisher:

160 p.

Editor:

Editions Téthys

Editing:

Edition of 2008, on the occasion of the centenary of the publication

Available in:

Electronics (pdf)

ISBN:

9782 74 170 3761
Read an excerpt
Download the original Haldane tables
DRAFT EXHAUSTED
Prevention of decompression sickness
In June 1908 appeared, inThe Journal of Hygiene(Cambridge University Press) a 100-page text, now cult, entitledThe Prevention of Compressed-air Illness.As soon as it appeared, this publication was going to revolutionize the methods of decompression in diving.
John Scott Haldane, in collaboration with AE Boycott and GCC Damant, had just established the first dive tables, thus paving the way for safer decompression, in line with the work of Paul Bert (Barometric pressure) published thirty years earlier.
This book is the French translation of this founding publication plus an introduction on the history of decompression (desaturation).
In the press
Often mentioned, this founding text was not well known and, dare we say it, was most of the time mentioned wrongly and through […]. Alain Foret's merit lies in having taken the subject head-on by going to the bottom of things. […] We also welcome the introduction, which is remarkably interesting and concise.
Subaqua- Review of the FFESSM
Context
It was between 1905 and 1908 that Haldane became interested in diving as an object of scientific research. Appointed member ofAdmiralty Committee on Deep-Water Diving, the Admiralty relies on its extensive knowledge of gas and breathing to solve the problems of deep diving. To carry out his experiments, John Scott Haldane surrounded himself with Dr AE Boycott and Lieutenant GCC Damant.
For Haldane, the main challenge is to find another way than "slow and uniform decompression" to avoid the risk of pathogenic bubbles forming on ascent. In 1905, this was the only solution proposed:
Hill and Greenwood successfully ascended 50 m to the surface at a speed of 0.5 m / min (Heller, Mager and von Schrötter), for an ascent time of 1h40.
Paul Bert recommends a "sufficiently slowed decompression", of the order of 30 minutes for a dive to 20 m (0.6 m / min) and one hour for a dive to 30 m (0.5 m / min). .
Denayrouze recommends an ascent speed of 1 m / min, with a limitation of dives to 35 m depth for a maximum duration of 2h30 at the bottom.
This approach is not satisfactory because:
it makes the ascent so long that it prohibits, in fact, deep dives (in 1905, it was a military objective for the Royal Navy);
it imposes the same duration of ascent whatever the time of exposure to the bottom, even though it has already been proven at the time that the risk of accident increases with the duration of exposure and remains low for short exposures .
However, the mail from the Royal Navy of 1905 is unambiguous: by creating a commission on deep diving, it wants a reliable and operational solution to be found for dives up to 55/60 m. Haldane must therefore be innovative and find another process.
Analysis by Haldane
At first, Haldane fights, on a scientific level, the very principle of slow and uniform ascents: "To avoid the risk of bubble formation during decompression, it was recommended until now that it be as slow and uniform as possible.. "He shows that, for deep dives, a"Uniform decompression at this rate, already dangerous for goats, would undoubtedly be extremely dangerous for humans, who desaturate much more slowly than goats".
Haldane then tries to find a new method of decompression (desaturation). His reflection is based on an observation unanimously shared at the time, including by Paul Bert: "Those who have experience working in compressed air know it well, there is no risk of chamber sickness, even with a very rapid rise, provided that the pressure reached does not exceed a certain value. It seems perfectly clear that no symptoms appear when the relative pressure is less than one atmosphere [10 meters deep], regardless of the duration of exposure. In other words, Haldane notes that it is possible to go from 2 bars (10 m deep) to 1 bar (sea level) without risk whatever the duration of exposure.
He will then extend this reasoning to all depth zones: "Therefore, it seems probable that, if a sudden decompression from two atmospheres of absolute pressure to one is safe, so should be four absolute atmospheres to two, six absolute atmospheres to three, etc.. Our experiments, described in detail below, have shown this to be the case. The desaturation process can, therefore, be greatly accelerated by rapidly reducing the absolute pressure by half, and by ensuring that, for the remainder of the decompression, saturation in any part of the body can never reach more. double the air pressure. The main advantage of this method is that, from the start of decompression, the elimination of nitrogen from the tissues takes place at the highest possible speed without danger.. "
Haldane thus leads to the creation of the rise in stages taking into account the pressure and the duration of exposure to determine the depth and time of the stops:
"This method greatly simplifies the problem of decompression safety, and removes many practical difficulties, especially with regard to deep diving. We can call it a method of decompression in stages, and it is described as such below, although its essential characteristic is not that the decompression is carried out in stages, but in that it is rapid until the absolute pressure is halved. and then continued slowly. "
Haldane tables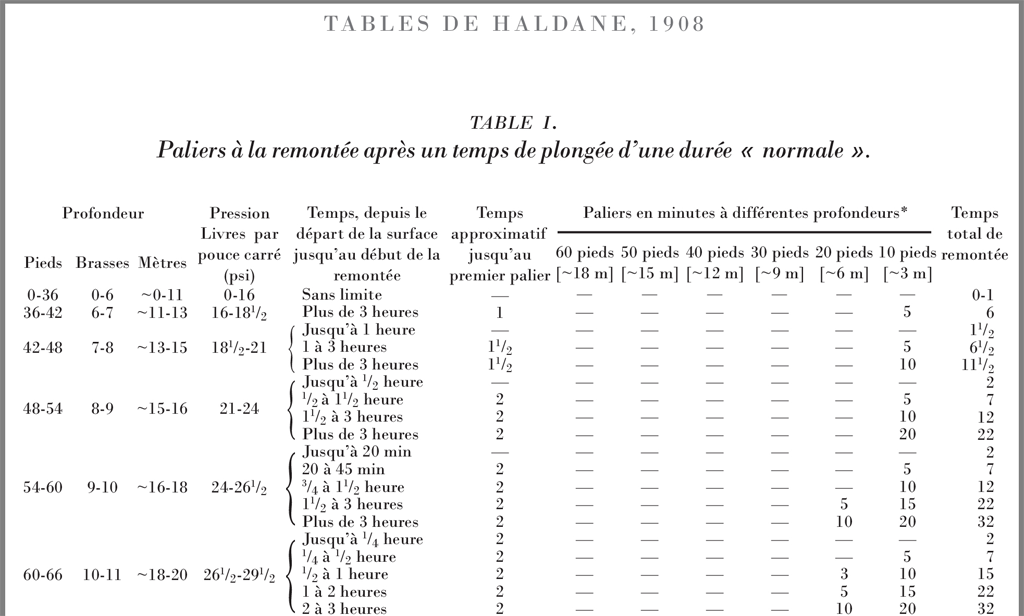 Characteristics of these tables
Presentation
They calculate a desaturation up to 62 m (contrary to what is widespread on the web, Haldane has never offered tables up to 100 m). This 60 m limit is not imposed on Haldane by the narcosis but by the power limit of the pumps supplying the divers and by the mission letter of theRoyal Navyfrom 1905 ("(a) Improvements to enable men to dive in 30 fathoms of water…" - 30 fathoms [fathoms] = 55 m, it went up to 34 ftm).
Two tables have been published, one for dives of a "normal" duration [total ascent time: 32 min.], The other for dives "beyond a normal duration" [total time of ascent: from 42 to 238 min.]
The ascent speed is of the order of 10 m / min with a variation depending on whether you dive more or less deep (faster for deep dives, slower when approaching the surface), which is a ascent rate still relevant today:

6 to 8 m / min up to 20 m deep. max. ;
10 m / min for dives between 40 and 20 m deep. max. ;
10 to 14 m / min for dives between 60 and 40 m deep. max.
The 10 hypotheses adopted by Haldane
Many websites are spreading false information regarding Haldane's assumptions. In order to clarify this point, here are the 10 hypothesesactually retained by Haldane, with reference to the page number corresponding to the original publication of 1908 in The Journal of Hygiene.
In the lungs, excess nitrogen is transmitted instantly to the blood (p. 345).
In the lungs, during decompression, with each circulatory cycle, the blood instantly transmits to the lungs the proportion of excess nitrogen it contains (p. 351).
In the tissues, excess nitrogen is transmitted instantly (p. 345).
The partial pressure of nitrogen in alveolar air is the same as in inspired air (p. 345).
Tissues are all similar in constitution to blood except fat, which it treats differently (p. 346).
A circulatory cycle takes place in 1 minute (p. 348).
The desaturation curve mirrors the saturation curve (p. 350).
The pressure ratio should not exceed 2: 1 (p. 357). This would correspond today to setting a Sc = 2. Haldane sets a unique Sc for all compartments.
The phenomena of nitrogen charge and discharge in the human body can be summed up in 5 compartments (artificial anatomical regions) whose periods (half-life) are: 5, 10, 20, 40 and 75 minutes (p 363).
Descent time is included in dive time (p. 367). The virtual exposure time considered is the actual background exposure time, increased by half the descent time (p. 350).
Other contributions from Haldane
Beyond the creation of stepwise decompression, Haldane makes various very interesting observations throughout the publication:
He recommends moving the arms and legs at the landings in order to prevent the conditions of desaturation from being very different from those of saturation (p. 367);
Age and overweight appear to favor accidents (p. 368);
The ascent rate of around 10 m / min is determined empirically (p. 370);
It discusses the notion of factors specific to each individual and variables from one day to the next that may contradict the decompression model [we speak today of contributing factors] (p. 384);
It signals the presence of bubbles without symptoms (p. 411) [today we speak of "silent bubbles"].
Audience who may be interested in this publication
People interested in desaturation models and wanting to know what the oft-cited Haldane actually wrote on the subject.
MF2 interns.
You can access the original version of this text, in English, published in volume 8 of theJournal of Hygiene. Click hereto get there.
Thanks: Cambridge University Press for permission to translate.
SUMMARY
FOREWORD
INTRODUCTION
Historical perspective, research on decompression sickness, from its origins to 1908
Pressure chambers
The bells to dive
Triger devices
The spacesuits
Research is organized
Paul Bert, father of diver physiology
PREVENTION OF DECOMPRESSION DISEASE
Translation of the text of Boycott, Damant and Haldane
Introduction
Part 1: Theory
A. Rate of nitrogen saturation of the body during exposure to compressed air
B. Rate of body desaturation during and after decompression
C. Limits of safety during decompression
D. Practical measures to prevent decompression sickness
Part 2: Experiments
1. Devices
2. Choice of experimental animals
3. Respiratory exchanges in goats
4. Methodology for conducting the experiments
5. Symptoms seen in goats
6. Results of experiments on goats
7. Differences in individual susceptibility, among the animals used, to decompression sickness
8. Pathology of caisson disease in goats
summary
Appendices
BIOGRAPHY OF THE AUTHORS
John Scott HALDANE
Guybon Chesney
Castell DAMANT
POSTFACE
A question, a suggestion, talk to the translator, Alain FORET:Click here.