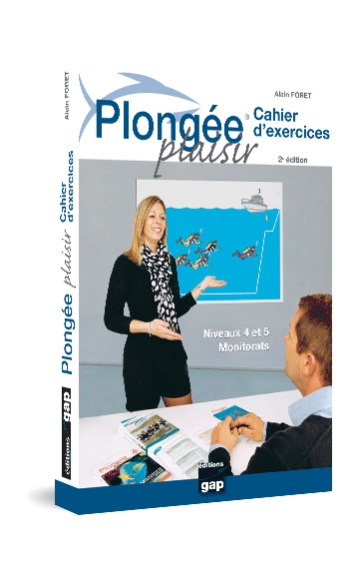 34,00 €
Publisher:

368p.

Editor:

GAP editions

Editing:

2nd edition

Available in:

Paper, eBook

ISBN:

9782 74170 5352
Read an excerpt
Resellers near you
Buy the paper version online
#1 DIVE TRAINING BOOKS

2nd edition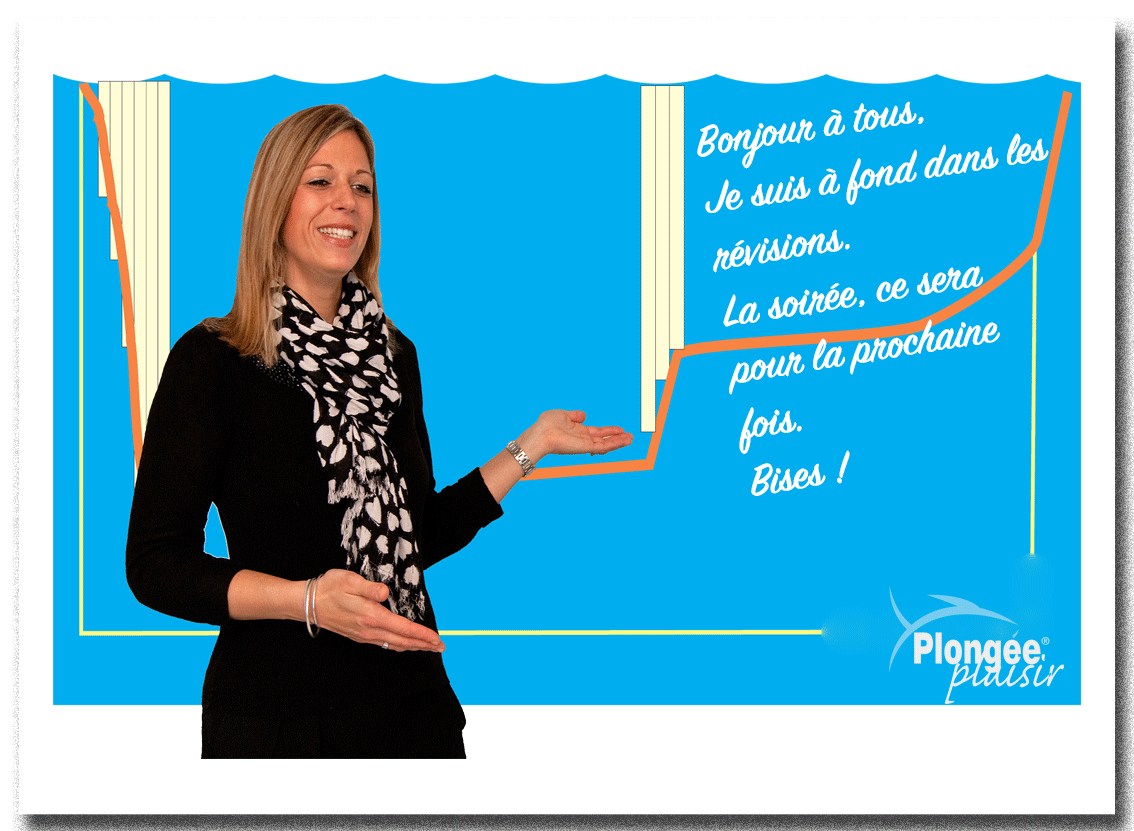 Level 4, Level 5, Federal and State Monitorates
Pleasure Diving Workbook covers the entire training program of the French Diving School (FFESSM, FSGT, ANMP, SNMP, UCPA) and the World Confederation of Underwater Activities (CMAS).
An ideal book for you to revise, practice for exams and self-assess.
Presentation
On the way to acquiring skills, the exam is often a must, such as level 4 or monitoring. All candidates are therefore looking for a way to take stock of their knowledge in order to measure their shortcomings and fill them.
If any pedagogue is aware that training cannot be reduced to preparing for an exam, he is also convinced that specific preparation becomes a necessity as the fateful date approaches. We then enter a period called "cramming" where all energies are gathered towards a single goal: to pass the exam!
This is how it appeared useful, in addition to Plongée Plaisir level 4 (focused on the knowledge to be acquired as a dive guide, dive director or instructor) and Plongée Plaisir Monitorats (focused on pedagogy), to offer a specific preparation book for the exams containing a total of more than 800 exercises and solutions.
In this context, Plongée Plaisir Workbook presents:
200 exercises on risk prevention and associated notions of anatomy and physiology, making sure to be at the forefront of the subject, particularly for the most important risks such as desaturation accidents for which prevention advice has evolved considerably over these ten last years. The same is true for pulmonary overpressure or newly identified risks such as immersion pulmonary oedema.
100 exercises on desaturation procedures with a large focus on dive computers, including the most recent models used by most divers today.
200 regulatory questions that cover the entire curriculum.
100 questions on team management as well as knowledge and protection of the environment.
200 questions on physics applied to diving, seamanship and equipment.
Errata
Page 227 exercise 326 read 2340/42 = 55.7 bars
Page 229 exercise 330 read 125 times 1.3 = 162.5
Updates
When changes, mainly regulatory, are published after the release of a Plongée Plaisir edition, we provide you here either with the page to print which replaces that of your book or with the updated information.
Page 83 (question 23): The CSR exercise (level 4, MF2) has been abolished at the FFESSM.
No more aspirin in relief since 2020. Questions 30, 34, 36, 68, 70, 71, 72, 73, 74, 81, 82, 83, 86, 127, 290, 293 (et pages 110 et 113) : "suppression de l'aspirine" en secours.
Alert: Addition of telephone number 196 to alert the CROSS.Questions 30, 36, 68, 80, 81, 82, 83, 84, 127, 137, 662 and pages 109 and 110.
Medical certificate, decree of July 24, 2017 and FFESSM amendments:page 284.
Questions 465 and 466 (answer: yes): a medical certificate is required for the first license as well as for its renewal:click here for more information (Pleasure Diving Info Sheet).
Page 407 (warning, safety and emergency equipment): a system for securing diving cylinders is no longer part of the obligations mentioned in division 240.
Question 429 about APS establishments:removal of the reporting obligation.
Division 240 modified in 2019: download thepage 272 and Annex 240-A-1 replacing page 273.
Question 499: The CNDS has been replaced by theNational Sports Agency(ANS) – Law No. 2019-812 of August 1, 2019.
SUMMARY
RISK PREVENTION (exercises 1 to 151)
• Barotraumas
• Shortness of breath
• Desaturation
• Cold
• Narcosis
• Apnea
• Drowning
• Others
DESATURATION PROCEDURES (exercises 152 to 260)
• Models
• Computers
• Quick issues
• Problems with classical resolution
• Reasoning on procedures
• Oxygen, nitrox
ANATOMY AND PHYSIOLOGY APPLIED TO DIVING (exercises 261 to 305)
PHYSICS APPLIED TO DIVING (exercises 306 to 355)
• Buoyancy, density, lifting
• Gas compressibility (air consumption, inflation)
• Model of MN90 tables, gas dissolution
• Partial gas pressure
• Vision, hearing
DIVING REGULATIONS (exercises 356 to 581)
• Sources of regulation
• Definitions
• Compulsory equipment
• Divers prerogatives
• Prerogatives of the dive guide
• Prerogatives of teachers
• The dive director
• Diving cylinders, pressure vessels
• The establishment of APS
• The boat
• Notions of responsibility
• The insurance
• The medical certificate
• License
• The actors of diving
• Associative life
• The professional monitor
MATERIAL (exercises 582 to 621)
THE CONDUCT OF THE PALANQUEE (exercises 622 to 651)
SEAMANSHIP (exercises 652 to 716)
KNOWLEDGE AND PROTECTION OF THE ENVIRONMENT (exercises 717 to 800)
Printed on certified paper made from paper pulp from sustainably managed forests. The ink used is based on vegetable oil, the printing press adopts a progressive environmental approach validated by Imprim'vert certification.
A question, a suggestion, talk to the author, Alain FORET: Click here.
See also…