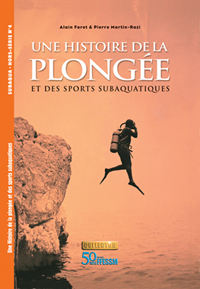 39,00 €
Publisher:

864 p.

Editor:

Subaqua, FFESSM

Editing:

1st edition, 2007

Available in:

Paper

ISBN:

1771-149X
Read an excerpt
Buy online
In the press
Finally ! The book diving deserved.
Jacques Pradel- Europe 1 April 20, 2007

The presentation program of the book on Europe 1 with Jacques Pradel - Ecouter…

http://www.plongee-plaisir.com/fr/wp-content/uploads/2016/05/Europe1_Histoireplongee.mp3

Arielle Cassim's program on RFI about the book - Ecouter…

http://www.plongee-plaisir.com/fr/wp-content/uploads/2016/05/RFI_espace_ocean_20070512_1510.mp3
In this 863-page book, Alain Foret and Pierre Martin-Razi bring together a very interesting history of the FFESSM and more generally of diving from antiquity to the present day (2005). A colossal work of compilation presented in chronological form, century after century (for antiquity), year after year, then day after day, a work which teems with a great deal of information on the history of diving. In particular, all the major diving events in France and around the world from 1927 to 2005. […] In short, a wealth of information are listed.
Presentation text taken from the diving encyclopedia:Wikidive.
Presentation
A History of Diving traces recreational diving from 1927 to 2007 with a historical perspective since Antiquity.
This is the result of 4 years of research with museums and private collectors, which today allows the publication of many unpublished documents.
The history of diving is a very large field. It is therefore impossible to claim to be exhaustive. This book traces A history of diving, that of recreational diving, born in France at the end of the 1920s and which has continued to develop since.
1927: Cdt Le Prieur immersed himself with a Michelin compressed air cylinder (which was used to re-inflate flat tires) and a regulator. This is the beginning of recreational diving. In 1937, a dumbfounded public witnessed the underwater evolution of divers in the Trocadéro aquarium in Paris: this is the Human Aquarium.
In the meantime, fins were invented (1933), modern regulators appeared (Cousteau-Gagnan, 1945) and paid vacations (1936) allowed as many people as possible to discover the sea ... and diving, in apnea (diving free) or in a diving suit.
The FFESSM (French Federation of Underwater Studies and Sports), the first diving federation in the world, was created in 1948 by Jean Flavien Borelli, a probable descendant of Giovanni Alfonsi Borelli, who already described a diving suit in his book By Motu Animalium, published in 1680!
The success of Le Monde du Silence (Louis Malle and Jacques-Yves Cousteau) in 1956 was global. The film won a Palme d'Or at the Cannes Film Festival (a certain François Mitterrand, Minister of Culture attended) and an Oscar in Hollywood.
Fascinated children watch Albert Falco's exploits aboard the Calypso… they will be the divers of the 1960s and beyond.
Le Grand Bleu, by Luc Besson, booed at Cannes in 1988, however, achieved tremendous popular success and contributed to a surge in the number of divers in the 1990s.
Today, France has more than 350,000 regular divers and more than 2 million people who have practiced diving at least once.
Of course, this book is not limited to this period alone. It dates back to Antiquity and evokes the first underwater incursions, in apnea, the first diver's bells, the appearance of the heavy diving suit (that of the heroes of Jules Verne), professional and military diving, etc.
They witness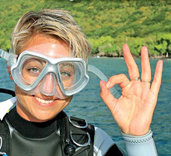 Jean Michel
"A must for those passionate about the history of diving […], written without complacency and with Benedictine precision."

Jean Marc
"I was immersed (it is the case to say it) last night in it. This book is a treasure […] "
SUMMARY
Message from the President
Prefaceby Jacques Borelli
Foreword
MAJOR EVENTS
A first chronological approach from Antiquity until 1927
TIME OF BIRTH
- First dive
- The pisciform swimming
- The fins before (and a little after ...) the invention of Louis de Corlieu
- Hunt underwater
- Fins and masks
- Breath underwater
- Underwater images
- Diving and swimming fishing clubs
MAJOR EVENTS
A second chronological approach from 1927 to the present day
THE TIME OF MATURITY
- Speech by Jean Flavien Borelli, first president of the FFESSM
- FFESM, the birth of a name
- Three private clubs
- A history of the federal review
- Diving magazines: synoptic table
- The FFESSM license, followed by a curve of the evolution of licenses
- Spearfishing
- Teach scuba diving
- Diving and children
- The instructors' unions
- Archeology
- Diving medicine
- The promotion
- Audiovisual
- Swimming with fins
- From regulations to the legal committee
- Underwater orientation
- Cave diving
- Apnea
- Underwater hockey
- White water swimming
- Target shooting
- Biology
- The FFESSM and the marine environment
- CMAS
- 50 years of the name
- Epilogue
APPENDICES
- History of diving, some key dates
- Portraits of FFESSM presidents
- Committee of Wise Men and Honor
- Dates and places of AGs, dates of CDN and office meetings
- List of medalists
- List of associative affiliated clubs
- Lists of approved commercial structures (SCA) of the FFESSM
- History of the regional committees of the FFESSM
- Federal personnel
- Sports results
Freediving and records
Underwater hockey
Swimming with fins
Underwater fishing
Target shooting
White water swimming
Orientation
- The words to say it
- The evolution of purchasing power
- Bibliography
- Filmography
- Index
- Photo credits
- Thanks
A question, a suggestion, talk to the author, Alain FORET: Click here.