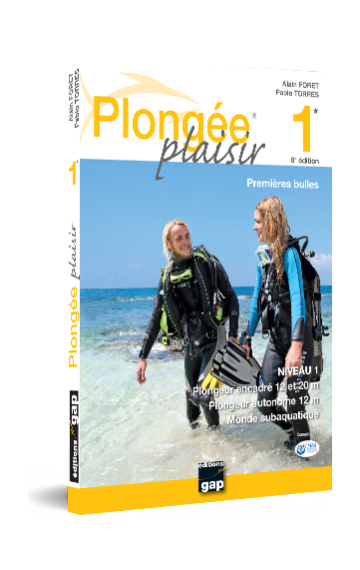 15 €
Publisher:

160 p.

Editor:

GAP editions

Editing:

8th edition

Available in:

Paper

ISBN:

9782 74 170 6397
Read an excerpt (pdf)
BUY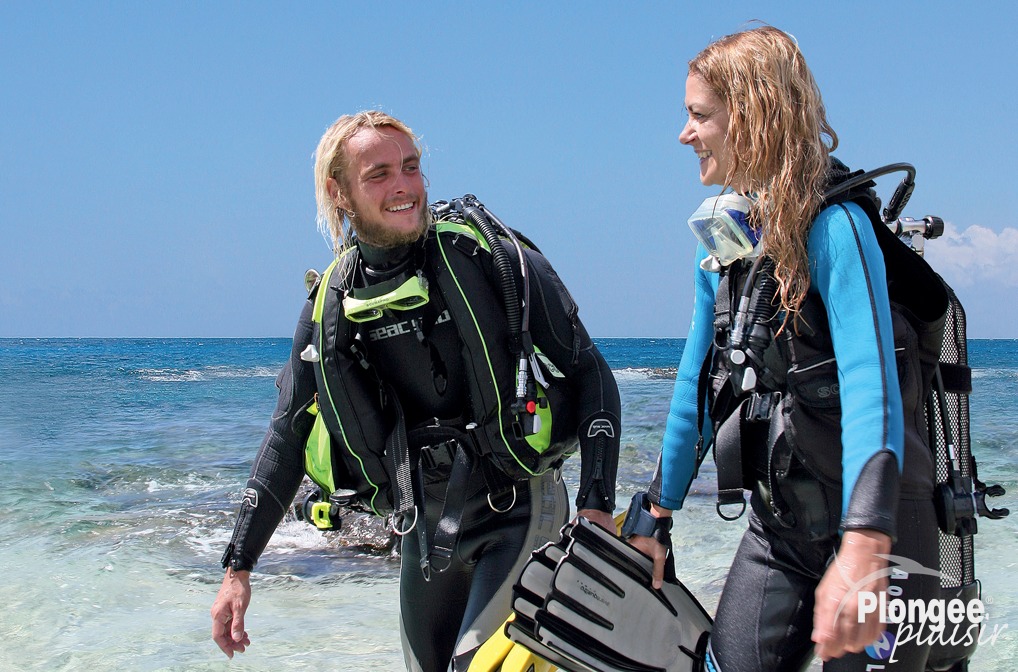 PLONGEE PLAISIR 1 ACCOMPANIES YOU THROUGHOUT YOUR PE-12 OR LEVEL 1 (PE-20) DIVER TRAINING.
N ° 1 FOR DIVING TRAINING BOOKS

8th edition
Plongée plaisir 1 covers the entire training program for the level 1 diving certificate and associated skills:
Level 1 diver (20 m supervised diver, Cmas P1 *);
Supervised diver 12 m (aptitude PE-12);
Autonomous diver 12 m (aptitude PA-12);
Nitrox;
Underwater world (species identification, protection).
Complies with the Sport Code and the program of the French Diving School (FFESSM, FSGT, ANMP, SNMP, UCPA) as well as the courses of the World Confederation of Underwater Activities (CMAS) and its member federations (French language: FLASSA-Luxembourg, FSSS-Suisse, CMAS.CH, LIFRAS-Belgium, CMAS Quebec,…).
Presentation of the book Plongée Plaisir 1
In addition to the courses given by your instructors, Plongée Plaisir 1 is the reference book for your diving training. Whether before or after lessons, you will find all the knowledge and technical skills to acquire, as well as numerous tests allowing you to self-assess at your own pace.
In the first part of the book, the following skills are developed:
equip yourself and maintain your equipment;
ensure your maintenance on the surface and your propulsion without effort (techniques of
kicking);
get into the water (ladder, straight jump, back tilt) and submerge yourself
(technique of seal, expiratory casting or duck);
find your balance in the water (ventilation, kicking, use of the life jacket);
dialogue by signs with your teammates and your dive guide (a dive group is a group of divers);
check your ventilation, remove and put your regulator back under water;
empty your mask while remaining underwater (just blow into the mask);
respect a slow ascent rate;
prevent the risks associated with the activity (ears in particular) ...
The second part of the book is devoted to the knowledge of the underwater life in order to encourage you to respect this fragile world and to reinforce the attractiveness of your dives.
At the end of your training, you will be authorized to dive between 0 and 12 or 20 m (skills PE-12 or PE-20) accompanied by a dive guide, in France and throughout the world . You will then have plenty of time to observe the most varied underwater species in their environment.
In the press
A book full of information and photos. To dive without making a fuss.
The Express

Thanks to this book […], the reader discovers the techniques and the rules to be respected in order to be able to dive safely. The numerous photographs reinforce the educational approach.
The world

Crushing is no longer a chore.
International Divers

An effective and motivating educational approach.
Subaqua - Review of the FFESSM
They witness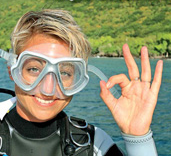 A very good entry into the water!
Very high quality book, which knows how to get to the level of the level 1 reader.
PE

Very didactic, simple, concise.
In short, incredibly effective.
AG

This book is easy to understand, a gentle presentation of diving for beginners, good reading.
DA
SUMMARY
Introduction
Thanks
Photographic credits
Foreword by Albert Falco
Manual
Part 1 - Discover scuba diving
Level 1 • Supervised diver 12 m (PE-12) • Supervised diver 20 m (PE-20) Autonomous diver 12 m (PA-12)
Sheet n ° 1 How to start diving?
Prerogatives • Minor divers • Medical certificate • Insurance • Diving structures
Sheet n ° 2 First bubbles
Course of a baptism, also called "discovery dive"
Sheet n ° 3 The diver's equipment
General presentation of the diver's equipment
Sheet n ° 4 The fins
Which fins to choose? • Fitted or adjustable? • Put on your fins
Sheet n ° 5 The tuba
The different snorkels • The mouthpiece • The fixing system
Sheet n ° 6 The mask
Description • A face, a mask • Put on your mask
Sheet n ° 7 The diving suit
A combination, why? • The different types of combination • Cold and diving • Gloves
Sheet n ° 8 Rigging a diving suit
The diving bottle • Fixing the BC • Roles of the BC • Mounting the regulator • Connection of the direct-system • Opening of the bottle and pressure control• Rules and precautions to take with a scuba tank
Sheet n ° 9 Launching
Put your bottle in the water • Back tilt • Straight jump • Start from the beach
Sheet n ° 10 Buoyancy
Do you float? Me too ! • The combination: like a buoy • Bottle and weight belt • Ballasting • Benefit of correct ballasting • Check ballasting
Knowledge test n ° 1- 1
Sheet n ° 11 Getting around: kicking
Support (or vertical) kicking • Ventral kicking • Costal kicking • Dorsal kicking • "Respectful" kicking (4 rules: balance, horizontal, fins pointing slightly upwards, gentle kicking, with the "tips of the feet")
Sheet n ° 12 Immerse yourself
"Expiratory casting" or "seal immersion" • Duck
Sheet n ° 13 Prevention of barotrauma
Pressure • Ears • Balancing methods • Sinuses • Teeth • Mask plating • Lungs
Knowledge test n ° 1-2
Sheet n ° 14 Breathe
Breathe with a snorkel • Breathe with a regulator • Remove and put your regulator back under water • Find your regulator • Check the amount of air available • Request and receive air • Avoid running out of breath • Notions of apnea
Sheet n ° 15 See
Mask and mist • New masks • Face water entering the mask (emptying the mask) • Mask and vision • Mask, glasses and contact lenses • Colors and depth
Sheet n ° 16 Balancing
Position in the water • Lung-ballast • Vest
Sheet n ° 17 How to behave in group
Definition of a team • Rules of conduct • Notion of pairs
Summary of essential concepts
Knowledge test n ° 1-3
Sheet n ° 18 Reassemble: the decompression phase
Never block your breathing • Go up slowly • The landings (computers and dive tables) • Pregnancy and diving • Boats (risks when approaching the surface, "overview")
Sheet n ° 19 Getting out of the water
Beach side dives • Go up on a tire • Go up on the ladder
Sheet n ° 20 Disequipping
Ungram your diving suit • Transport bags • Rinse the equipment • Disinfect the tips
Sheet n ° 21 Some precautions
Before diving • After diving (hydration, no effort, no plane, no apnea)
Knowledge test n ° 1-4
Final level 1 diver test
Sheet n ° 22 Self-diving qualification 12 m
Autonomy and responsibility • Essential equipment • Basic orientation • Mastering your autonomy in the air • Improving kicking and balance • Communication, safety and assistance • Using a landing parachute
Part 2 - The underwater world
Sheet n ° 23 Classification of species
Sheet n ° 24 The vegetable kingdom
40,000 Algae and some underwater plants
Sheet n ° 25 The animal kingdom - invertebrates
Sponges • Cnidarians (jellyfish, coral, gorgonians,…) • Worms • Crustaceans • Bryozoa • Gastropods • Molluscs (bivalves, cephalopods) • Echinoderms • Tunicates
Sheet n ° 26 The animal kingdom - vertebrates
Main species encountered while diving: warm and temperate seas, cold waters, fresh waters
Notions on ecosystems
Knowledge test on underwater life
To know more
The diver's vocabulary
Small dictionary
français / english / español
Thematic index
Printed on certified paper made from paper pulp from sustainably managed forests. The ink used is based on vegetable oil, the printing press adopts a progressive environmental approach validated by Imprim'vert certification.
A question, a suggestion, talk to the author, Alain FORET: Click here.
See also: Diving for Pleasure 2