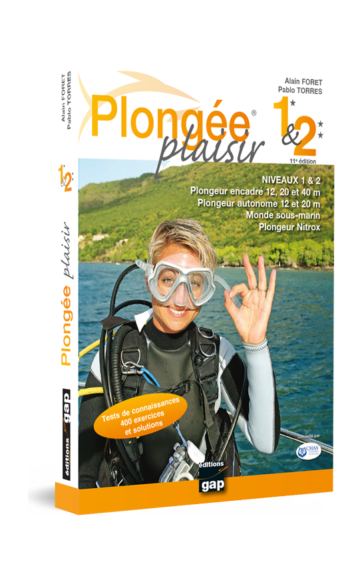 29,00 €
Publisher:

384 p.

Editor:

GAP editions

Editing:

11e édition, 2021

Available in:

Paper

ISBN:

9782 74170 6779
Read an excerpt (pdf)
Buy the paper version online
N ° 1 FOR DIVING TRAINING BOOKS


11e édition novembre 2021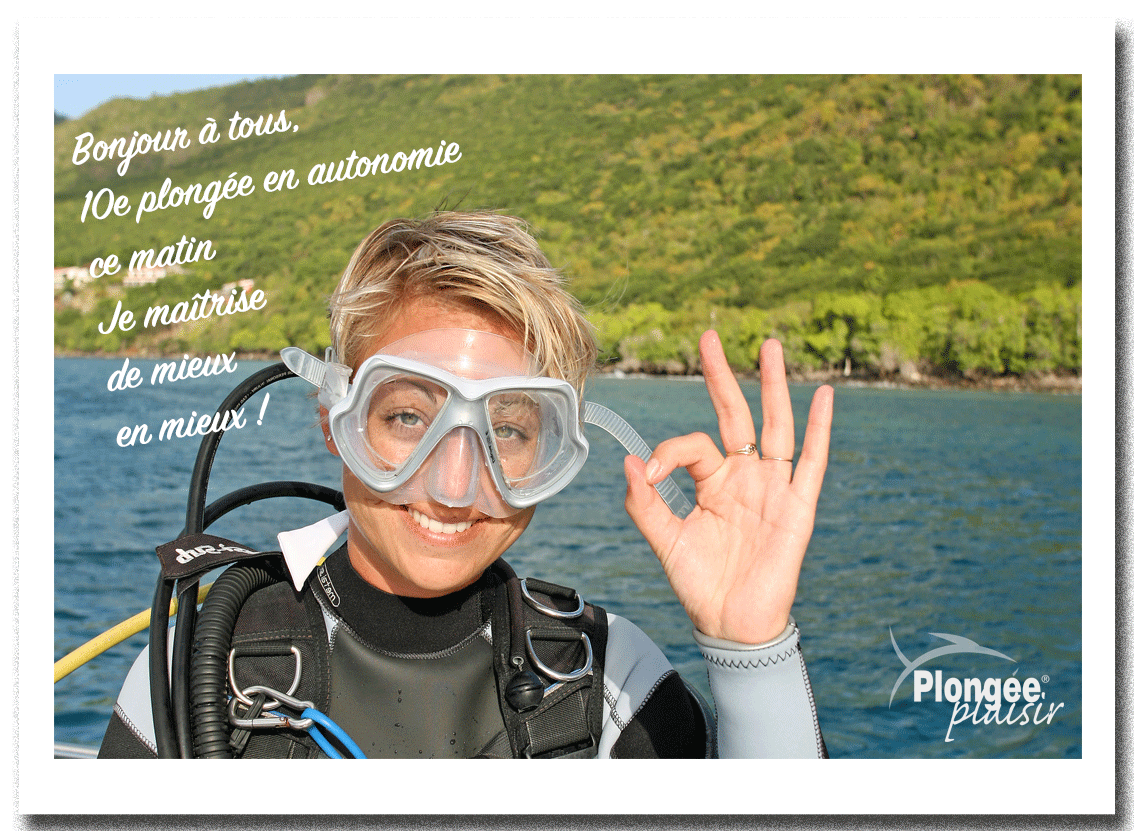 Pleasure 1 & 2 diving, training book for diving certificates levels 1 & 2 and associated skills
Plongée Plaisir 1 & 2 combines Diving for Pleasure 1 and Diving for Pleasure 2, in the same volume, namely:
the training content of Diving for Pleasure 1 ;
the underwater world of Diving for Pleasure 2 ;
the training content of Diving for Pleasure 2.
How to choose between Pleasure Dive 1, Pleasure Dive 2 and Pleasure Dive 1 & 2?
The choice depends on your needs and expectations:
"I only want to pass level 1 for the moment": Plongée Plaisir 1.
"I want to pass level 2 or one of the associated skills but I have had insufficient courses at level 1 (or: I want to revise level 1)": Plongée Plaisir 1 & 2
"I have mastered level 1 knowledge very well and I want to pass level 2 or one of the associated skills": Plongée Plaisir 2.
"I already have Plongée Plaisir 1, I want to pass level 2 or one of the associated skills": Plongée Plaisir 2.
"I have a doubt between Plongée Plaisir 2 and Plongée Plaisir 1 & 2 but I see that the price difference is small, I say to myself that I take Plongée Plaisir 1 & 2. "
Whether before or after lessons, you will find all the knowledge and technical skills to acquire, as well as numerous tests allowing you to self-assess at your own pace.
Skills or abilities covered:
Diver levels 1 (Cmas P1 *) and 2 (Cmas P2 *)
Supervised diver 20 m (PE-20) and 40 m (PE-40)
Autonomous diver 12 m (PA-12) and 20 m (PA-20)
Underwater world (environment, species identification and protection)
Nitrox diver (PN)
Complies with the Sport Code and the program of the French Diving School (FFESSM, FSGT, ANMP, SNMP, UCPA) as well as the courses of the World Confederation of Underwater Activities (CMAS) and its member federations (French language: FLASSA-Luxembourg, FSSS-Suisse, CMAS.CH, LIFRAS-Belgium, CMAS Quebec,…).
New in the 11th edition
In addition to the usual updates and the change of certain photographs, the novelties concern:
Nouveau texte concernant le rinçage et la désinfection du matériel de plongée ;
Précisions concernant l'utilisation du parachute de palier ;
Nouvelles photographies pour illustrer le monde sous-marin ;
Orientation : mise à jour des informations concernant les fonctions des ordinateurs de plongée ;
Nouvelles photographies pour le matériel de plongée ;
Nouveau texte concernant les risques de narcose en plongée : distinction entre les effets de la narcose et la crise de narcose ;
Bouteilles de plongée : ajout d'information à propos du marquage (G1, G2) et du transport des blocs ;
Nouvelles informations concernant la vitesse de remontée (ordinateurs de plongée) ;
Nouvelles informations sur la procédure conseillée par Plongée Plaisir en cas de remontée rapide ;
Actualisation des informations sur les ordinateurs de plongée ;
Actualisation des informations sur le cadre institutionnel (ministère chargé des sports, nouvelles dénominations des administrations, organismes certificateurs, …).
Holders of the previous edition can still use it.
In the press
One of the strengths of this "bible" is that it offers a large number of exercises (300) accompanied by their solutions […]
This new opus from the Plongée Plaisir collection, which has established itself for several years as a must-have in the world of palmipeds, has also been given a new presentation, offering more clarity and readability.
Diving Magazine

A book full of information and photos. To dive without making a fuss.
The Express

Thanks to this book […], the reader discovers the techniques and the rules to be respected in order to be able to dive safely. The numerous photographs reinforce the educational approach.
The world

Crushing is no longer a chore.
International Divers

An effective and motivating educational approach.
Subaqua - Review of the FFESSM
They witness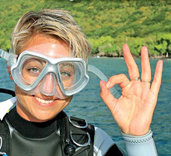 Anne L.
The presentation of the different levels is clearly explained, the progression is easy.
The different chapters are pleasantly accompanied by explanatory images or photos and the focus on the essential points to remember is beneficial.
In short, it is a perfect book to start diving and thus assimilate more quickly the comments made by the instructor.

Johnny from Colmar, May 2016.
Really very explicit book for beginners like me. Very well illustrated. The exercises with the very understandable answers. I recommend this book. And the icing on the cake: super reasonable price.

Sarah G.
"Essential.
For all beginner divers !! Contains a wealth of valuable information to start this wonderful hobby.
Roll on level 3 for the next volume! "

John
"Really a very good and well illustrated book to practice the practice of scuba diving.
I can't wait to experience the practice in real life in September "

John, The Londe
Very good support to help pass the complete N2 diving book which takes over the N1 and allows to pass the N2 (in addition to the courses given by the club).

E. Lyon
A perfect guide! This guide allowed me to review before passing my second level of diving after a year without practice. Clear and complete, I was able to get back into the bath before going back to diving ...
Summary
Foreword by Albert Falco
Thanks
Photographic credits
Introduction
Manual
Part 1 - Discover scuba diving
Level 1 • Supervised diver 12 m (PE-12) • Supervised diver 20 m (PE-20) Autonomous diver 12 m (PA-12)
Sheet n ° 1 How to start diving?
Prerogatives • Minor divers • Medical certificate • Insurance • Diving structures
Sheet n ° 2 First bubbles
Course of a baptism, also called "discovery dive"
Sheet n ° 3 The diver's equipment
General presentation of the diver's equipment
Sheet n ° 4 The fins
Which fins to choose? • Fitted or adjustable? • Put on your fins
Sheet n ° 5 The tuba
The different snorkels • The mouthpiece • The fixing system
Sheet n ° 6 The mask
Description • A face, a mask • Put on your mask
Sheet n ° 7 The diving suit
A combination, why? • The different types of combination • Cold and diving • Gloves
Sheet n ° 8 Rigging a diving suit
The diving bottle • Fixing the BC • Roles of the BC • Mounting the regulator • Connection of the direct-system • Opening of the bottle and pressure control • Rules and precautions to take with a scuba tank
Sheet n ° 9 Launching
Put your bottle in the water • Back tilt • Straight jump • Start from the beach
Sheet n ° 10 Buoyancy
Do you float? Me too ! • The combination: like a buoy • Bottle and weight belt • Ballasting • Benefit of correct ballasting • Check ballasting
Knowledge test n ° 1- 1
Sheet n ° 11 Getting around: kicking
Support (or vertical) kicking • Ventral kicking • Costal kicking • Dorsal kicking • "Respectful" kicking (4 rules: balance, horizontal, fins pointing slightly upwards, gentle kicking, with the "tips of the feet")
Sheet n ° 12 Immerse yourself
"Expiratory casting" or "seal immersion" • Duck
Sheet n ° 13 Prevention of barotrauma
Pressure • Ears • Balancing methods • Sinuses • Teeth • Mask plating • Lungs
Knowledge test n ° 1-2
Sheet n ° 14 Breathe
Breathe with a snorkel • Breathe with a regulator • Remove and put your regulator back under water • Find your regulator • Check the amount of air available • Request and receive air • Avoid running out of breath • Notions of apnea
Sheet n ° 15 See
Mask and mist • New masks • Face water entering the mask (emptying the mask) • Mask and vision • Mask, glasses and contact lenses • Colors and depth
Sheet n ° 16 Balancing
Position in the water • Lung-ballast • Vest
Sheet n ° 17 How to behave in group
Definition of a team • Rules of conduct • Notion of pairs
Summary of essential concepts
Knowledge test n ° 1-3
Sheet n ° 18 Reassemble: the decompression phase
Never block your breathing • Go up slowly • The landings (computers and dive tables) • Pregnancy and diving • Boats (risks when approaching the surface, "overview")
Sheet n ° 19 Getting out of the water
Beach side dives • Go up on a tire • Go up on the ladder
Sheet n ° 20 Disequipping
Ungram your diving suit • Transport bags • Rinse the equipment • Disinfect the tips
Sheet n ° 21 Some precautions
Before diving • After diving (hydration, no effort, no plane, no apnea)
Knowledge test n ° 1-4
Final level 1 diver test
Sheet n ° 22 Self-diving qualification 12 m
Autonomy and responsibility • Essential equipment • Basic orientation • Mastering your autonomy in the air • Improving kicking and balance • Communication, safety and assistance • Using a landing parachute
Part 2 - The underwater world
Factsheet n ° 23 Oceans
Source of life and great regulators • Depth zones • Light and life • Temperature
Sheet n ° 24 Planet Water
Waves • Swell • Current • Salt • How do fish float? • Do the fish have blood? • Camouflage and protection • Are the fish drinking? • Plankton
Sheet n ° 25 The underwater environment
Rocky bottoms • Drop-offs • Sand • Open water • Giant algae (laminaria) • Coral reefs • Mangroves
Sheet n ° 26 Underwater life
Classification of species • Identification keys
Sheet n ° 27 The plant kingdom
Algae • Flowering plants
Sheet n ° 28 The animal kingdom: invertebrates
Sponges • Cnidarians: jellyfish, anemones, gorgonians, corals (hard, black, soft, Mediterranean red, fire coral) • Bryozoa: sea rose, Neptune lace, false coral • Worms: spirographs, sabelles, planarians, bonellies • Crustaceans: shrimps, lobsters, lobsters, crabs • Molluscs: gastropods (slugs, snails), bivalves (oysters, mussels, giant clams) • Cephalopods (octopus, cuttlefish, squid) Echinoderms: starfish, brittle stars, sea urchins, sea cucumbers • Ascidians ( tunicates)
Sheet n ° 29 The animal kingdom: vertebrates
Cartilaginous fish (rays, sharks) • Bony fish from temperate seas (castagnoles, wrasse, blenny, crenilabra, wrasse, mullet, red mullet, moray eel, conger, sea bream, oblades, sars, saupes, serrans, wolves (bass), corbs , mostelles, pout, capelin, pollack, grouper, scorpion fish, scorpionfish, sphyrenes (barracuda, bécunes) Bony fishes of coral reefs: parrotfish, triggerfish, napoleons, butterflyfish, coachfish, soldier fish, bigeyes, anthias, snappers, tropical groupers, angelfish, batfish, surgeonfish, stonefish, sweetlips, crocodilefish, pterois, pufferfish, boxfish Marine reptiles: snakes, marine iguanas, crocodiles marine, turtles Marine mammals: delphinids (killer whales, pilot whales, dolphins), beluga, narwhal, sperm whales, porpoises, whales, manatees, dugongs, sea lions, seals, walruses Ecosystems • Life with many
Sheet n ° 30 Approach to underwater species
Rule n ° 1: no noise or sudden movement • Rule n ° 2: do not get between the fish and the current • Rule n ° 3: do not get between the light and the fish
Factsheet n ° 31 Protecting nature
The causes • The vision of Jean-Michel Cousteau • The responsible diver charter Longitude 181 Nature
Sheet n ° 32 The underwater image (photo, video)
Test on the underwater world
Part 3 - Techniques improvement
Level 2 • Autonomous diver 20 m (PA-20) • Supervised diver 40 m (PE-40)
Presentation
UL 1 - Autonomous diving at 20 m
Sheet n ° 33 Autonomy under certain conditions
Authorization of the diving director • Major divers • Training areas Safety sheet • Notions of dive and autonomy • Compulsory individual equipment • Attachment of instruments
Sheet n ° 34 Communicating and assisting a team member
Underwater hearing • Underwater vision • Colors and depths Writing underwater (slate) • Main signs of communication • Assisting a diver
Sheet n ° 35 Ballasting and immersion
Notions of buoyancy • Actual weight • Apparent weight • Archimedean thrust Factors influencing buoyancy
Sheet n ° 36 Air consumption and depth
Pressure • Compressed air • Air autonomy decreases with depth • Autonomy calculations according to air reserves and diver consumption • Boyle-Mariotte law • Factors influencing our air consumption
Sheet n ° 37 Learning to find your way
Orientation: relevant landmarks (sun, coast, depth, current, characteristic elements, diving course) • Orient yourself in the absence of landmarks (determine a course, follow a course without deviating, assess a distance, change course) • Choose a compass • Electronic compasses (dive computers)
Sheet n ° 38 Using a landing parachute
Report to the person ensuring surface safety • Report to boaters • Deploy a parachute underwater
Knowledge test n ° 2-1
UL 2 - Risk prevention
Sheet n ° 39 Rules of good practice
Rule n ° 1: An annual medical certificate • Rule n ° 2: A gradual resumption of diving • Rule n ° 3: Rest and healthy lifestyle • Rule n ° 4: Physical exercise • Contraindications
Sheet n ° 40 Prevention of barotrauma
Definition: trauma due to pressure variations on closed volumes • Ears (most common, often benign) • Lung overpressure (very serious, fortunately easy to avoid) • Sinuses • Mask plating • Teeth • Stomach and intestines
Sheet n ° 41 So as not to get out of breath
Risks associated with shortness of breath: air failure, panic, drowning, pulmonary overpressure • Mechanism • What to do • Prevention
Sheet n ° 42 Cold and diving
Mechanism • Action to be taken • Prevention
Sheet n ° 43 Prevention of drowning
Causes and mechanisms • What to do • Prevention
Sheet n ° 44 Marine animals and associated risks
Burns • Bites • Stings
Sheet n ° 45 The current
Dives with current • Sense of exploration • Avoid shortness of breath • Safety instruments
Sheet n ° 46 The waves
On board the boat • On the surface • At the end of the dive
Sheet n ° 47 Troubled Waters
Avoid losing your team • Adapt your exploration
Sheet n ° 48 Caves and tunnels
Sheet n ° 49 Wrecks
Sheet n ° 50 Night dives
Specificities • Night signs
Sheet n ° 51 Nets or ropes
Risks • Prevention • Safety instruments: knife, scissors, wire cutter
Sheet n ° 52 Boats
Risks (propellers) • Prevention
Sheet n ° 53 Freediving or free diving
Performance improvement tips • Disciplines • Risk prevention
Sheet n ° 54 Diver's insurance
Liability insurance (RC) • Individual accident insurance • Existing contracts • Notions of civil and criminal liability • Assistance agreement • Equipment insurance
Knowledge test n ° 2-2
UL 3 - Desaturation procedures
Sheet n ° 55 The risks of desaturation
Presentation of the mechanism • Possible consequences • What to do • Permeable oval foramen (FOP) • 4 prevention rules: 1. Compliance with the protocol 2. Taking into account the contributing factors 3. Avoiding risky behavior 4. Avoiding risk profiles
Sheet n ° 56 Desaturation procedures
Desaturation models • Dive computers • Ascent rate • Stops • Tips
Sheet n ° 57 Use of dive computers
Computers and dive tables: what are the differences? • Limits • Before diving, on the surface • While diving • Returning to the surface • Dive log • 5 rules for diving with a computer
Sheet n ° 58 Special procedures
Heterogeneous procedures • Emergency procedures
Sheet n ° 59 Using the MN90 tables
Presentation • "Single" or "single" dive • In the event of a slow ascent • A second dive during the day: successive dive • In the event of a consecutive or additive dive • In the event of an accidental or abnormal ascent (rapid ascent, interruption of stages)
Knowledge test n ° 2-3
UL 4 - Supervised dive at 40 m
Sheet n ° 60 Dives at 20 m and dives at 40 m, what are the differences?
Sheet n ° 61 All dives at 40 m are not the same
Presentation • Conditions to be fulfilled • Equipment • Descent • Stabilization
Sheet n ° 62 Managing air reserves and the risk of air failure
Air failure • Communication • Know your consumption • What to do
Sheet n ° 63 Risks of shortness of breath
Specificity of dives in the 20 to 40 m zone (see sheet n ° 41 for the general framework)
Sheet n ° 64 Understanding narcosis
Sensitivity factors • What the diver feels • To avoid being narcotic • Risk of loss of team members • The ascent phase and the stops
Knowledge test n ° 2-4
UL 5 - The material
Sheet n ° 65 Instruments for measuring parameters
Depth gauge • Dive computer: management of desaturation, alarm, display and readability, air management, nitrox, penalizing factors, batteries, altitude, dive planning, maintenance
Sheet n ° 66 Regulators
Operating principle • Notions of tightness • Operation • Risk of breakdown • Compensation • Piston / diaphragm • DIN / Caliper • Custom settings
Sheet n ° 67 The waistcoat
Types of vests • Models • Volumes
Sheet n ° 68 Scuba tanks
Periodic inspection • Periodic requalification • Exemption regime: TIV • Valves • Mandatory information • Francization and CE bottles • Choose a bottle
Sheet n ° 69 Dry suits
Knowledge test n ° 2-5
UL 6 - Certification bodies
Sheet n ° 70 Diving in France
Sheet n ° 71 The federations
National level and decentralized bodies (OD) • Members (associative clubs and commercial structures) • Diving federations
Sheet n ° 72 The FFESSM: delegated federation
Administration • Members • License • Deconcentrated bodies • Commissions
Sheet n ° 73 The FSGT
Sheet n ° 74 Professional unions
ANMP • SNMP • SNEPL • SMPS
Sheet n ° 75 CMAS
Sheet n ° 76 International certification agencies
PADI • SSI • NAUI
Final level 2 diver test
Part 4 - Nitrox Diver (PN)
Sheet n ° 77 Nitrox Plunger
Nitrox: why? • Nitrox: distinctive colors • Where to dive with Nitrox • Nitrox diving in France • Prerogatives of a Nitrox Diver (PN) • The concept of floor depth • Setting up your computer • Nitrox tables • Risk of hyperoxia • Checking the percentage of oxygen
Nitrox diver knowledge test
To know more
Units of measure and conversion factors
Diving differently (altitude, under the ice)
The diver's vocabulary
Small dictionary French, English, Spanish
Thematic index
Books and educational materials Plong Plaisir
To discover at Editions GAP
Books edited and distributed by Editions GAP
Printed on certified paper made from paper pulp from sustainably managed forests. The ink used is based on vegetable oil, the printing press adopts a progressive environmental approach validated by Imprim'vert certification.
A question, a suggestion, talk to the author, Alain FORET: Click here.
On the same subject …