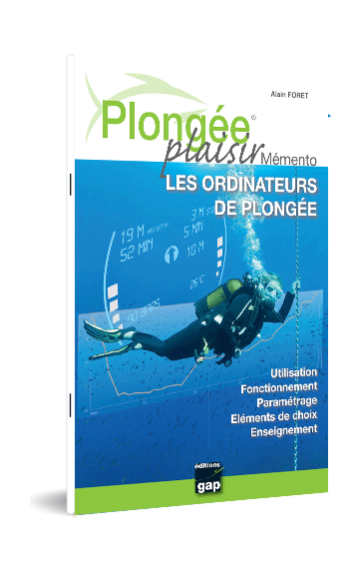 € 8.50
Publisher:

48 p.

Editor:

GAP editions

Editing:

1st edition

Available in:

Paper

ISBN:

9782 74 170 5376
Read an excerpt
Resellers near you
Buy the paper version online
N ° 1 FOR DIVING TRAINING BOOKS


use
Operation
Settings
Elements of choice
Education
Warning to reader : This handbook presents in detail the operation, the capacities and the limits of the dive computers. This is not a catalog. It is therefore independent of the computer models regularly placed on the market by the manufacturers.
Presentation
Dive computers are in widespread use today and offerings from multiple manufacturers.
In recent years, new functions have appeared on the market, ranging from nitrox to multi-gas management, including electronic compasses, integrated air management, the concept of deep stops, optional stops, freediving mode, etc.
On the display side, the latest OLED technology has appeared alongside traditional LCD screens, now posing differently the question of screen ergonomics and access to different functions.
It is even possible to see information on desaturation in your mask and to use your smartphone as a dive computer.
On the interface side, Bluetooth technology has been integrated, making it possible to export data not only to his desktop computer, already available for many years via a physical connection, but also to tablets and, in general, to any mobile support.
As for the desaturation models, they now all integrate the Haldanian approach (dissolved nitrogen) and the microbubble approach, for even safer decompression.
In short, you have understood it, the world of dive computers is in full swing and it was necessary to take stock of the issue, to have an overview to better understand the possibilities offered, the choices offered and the safety issues of desaturation.
This is the subject of this Plongée Plaisir memento which is aimed both at divers, whether supervised or autonomous, and at supervisors, guides, initiators and instructors.
Divers will find the answers to their questions there:
- How does a dive computer work?
- What are the selection criteria?
- What are the limits of use?
- What are the main functions available?
- What is a desaturation model?
- etc.
The supervisors will be able to draw from it material for their courses on desaturation procedures.
With this in mind, each page of the memento is captioned:
PE: means that the page concerns supervised divers, who must know how to read their instrument, understand the key concepts and know the possibilities offered.
PA: means that the page concerns scuba divers. In general, they must be aware of all the possibilities offered by their instrument and, in particular, be aware of the configuration possibilities having an impact on the safety of the desaturation.
EP: means that the page is intended for supervisors (guides, initiators, instructors), whose knowledge in the matter must be broader than that of autonomous divers and go beyond their only instrument, in order to be able to advise divers who 'they supervise, help them in handling their computer and guide them in their choices.
Warning to readers
This Memento is not a product catalog.
SUMMARY
Sheet n ° 1 Operating principle
Sheet n ° 2 Using a dive computer
Sheet n ° 3 Limits of use
Sheet n ° 4 Emergency procedures
Sheet n ° 5 Prudence factors, personalization
Sheet n ° 6 Main functions and settings
Sheet n ° 7 Integrated air management
Sheet n ° 8 Compass or digital compass
Sheet n ° 9 The nitrox mode
Sheet n ° 10 Diving in an altitude lake
Sheet n ° 11 Deep stops
Sheet n ° 12 Ascent rate
Sheet n ° 13 Heterogeneous procedures
Sheet n ° 14 The "freediving" mode
Sheet n ° 15 Multi-gas and rebreather mode
Sheet n ° 16 Display, screen and readability
Sheet n ° 17 Plane, altitude and diving
Factsheet n ° 18 Planning mode
Sheet n ° 19 Logbook and history
Factsheet n ° 20 The concept of the desaturation model
Sheet n ° 21 Interfaces
Sheet n ° 22 Batteries and rechargeable batteries
Sheet n ° 23 Maintenance
Sheet n ° 24 Choosing your dive computer
Download the instructions for the main computers on the market
Printed on certified paper made from paper pulp from sustainably managed forests. The ink used is based on vegetable oil, the printing press adopts a progressive environmental approach validated by Imprim'vert certification.
A question, a suggestion, talk to the author, Alain FORET: Click here.