INFO SHEETS > INITIATE YOU
Diving levels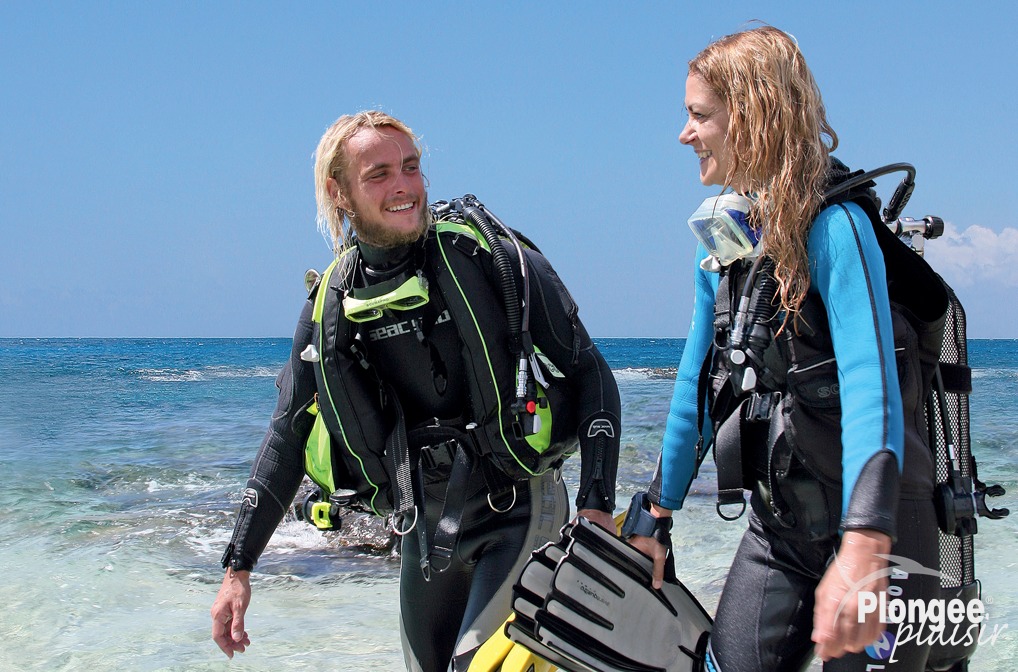 Presentation
In France, the Sport Code distinguishes the aptitudes for supervised diving (PE) from the aptitudes for autonomous diving (PA) and specifies, according to these aptitudes, the maximum depth of evolution (12 m, 20 m, 40 m or 60 m for air dives).
For example, a diver supervised at 20 m (maximum) is noted PE-20.
Certaines de ces aptitudes peuvent être regroupées en « niveaux » (niveau 1, niveau 2, niveau 3) afin d'en simplifier la lecture et de permettre une correspondance avec les brevets internationaux.
A distinction is made between the levels:
diver (supervised or autonomous, levels 1 to 3);
supervisor (dive guide, level 4);
teacher (initiator or monitor).
All diving is supervised by a diving director.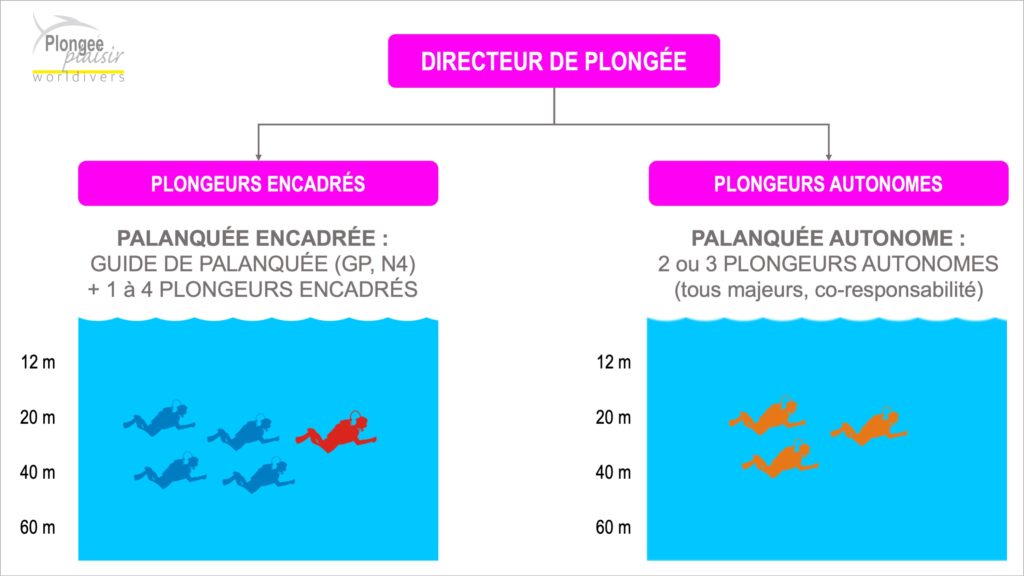 Supervised diver
A supervised diver is a diver capable of joining a dive group with other supervised divers, guided by a Diver Guide (level 4).
A supervised dive can include 1 to 4 divers, excluding dive guide.
Autonomous diver
A scuba diver can dive, subject to the agreement * of the dive director, with other scuba divers, without a dive guide.
* Les niveaux sont des possibilités maximale d'évolution, soumises dans tous les cas à l'arbitrage du directeur de plongée. Par exemple, si un plongeur autonome n'a pas plongé depuis plusieurs mois, le directeur de plongée peut décider de le faire plonger en étant encadré pour son retour à l'activité (plongées de réadaptation). Le plongeur ne peut pas s'y opposer.
Get started: level 1
The level 1 allows diving while being supervised at 20 m (PE-20).
It is possible to go through an intermediate level: supervised diver 12 m (eg people who do not have time to follow a complete level 1 training).
For PE-12 or PE-20 divers (level 1), it is also possible to progressively gain autonomy by passing the level of autonomous diver to 12 m (PA-12).
Âge minimum : 14 ans (12 ans sous conditions). Avant cet âge, il existe des formations spécifiques pour les enfants, dès 8 ans.
Improve: level 2
After its level 1 (PE-20), it is possible to improve by passing its level 2:
20 m scuba diver (PA-20)
and supervised diver 40 m (PE-40).
It is also possible to pass levels PA-20 and PE-40 separately.
Âge minimum : 16 ans (les prérogatives d'autonomie ne sont acquises qu'à partir de la majorité – 18 ans).
Go further: level 3
The highest level of diver is level 3:
Supervised diver 60 m (PE-60);
Autonomous diver 60 m (PA-60).
It is possible to pass the PE-60 and PA-60 levels separately.
It is also possible, for more progressiveness, to first pass the level of autonomous diver to 40 m (PA-40).
Become a supervisor: level 4 dive guide
Les plongeurs niveau 3 peuvent accéder au brevet de plongeur niveau 4 et devenir ainsi guide de palanquée (encadrant de plongeurs).
Level 4 allows you to take a diving instructor.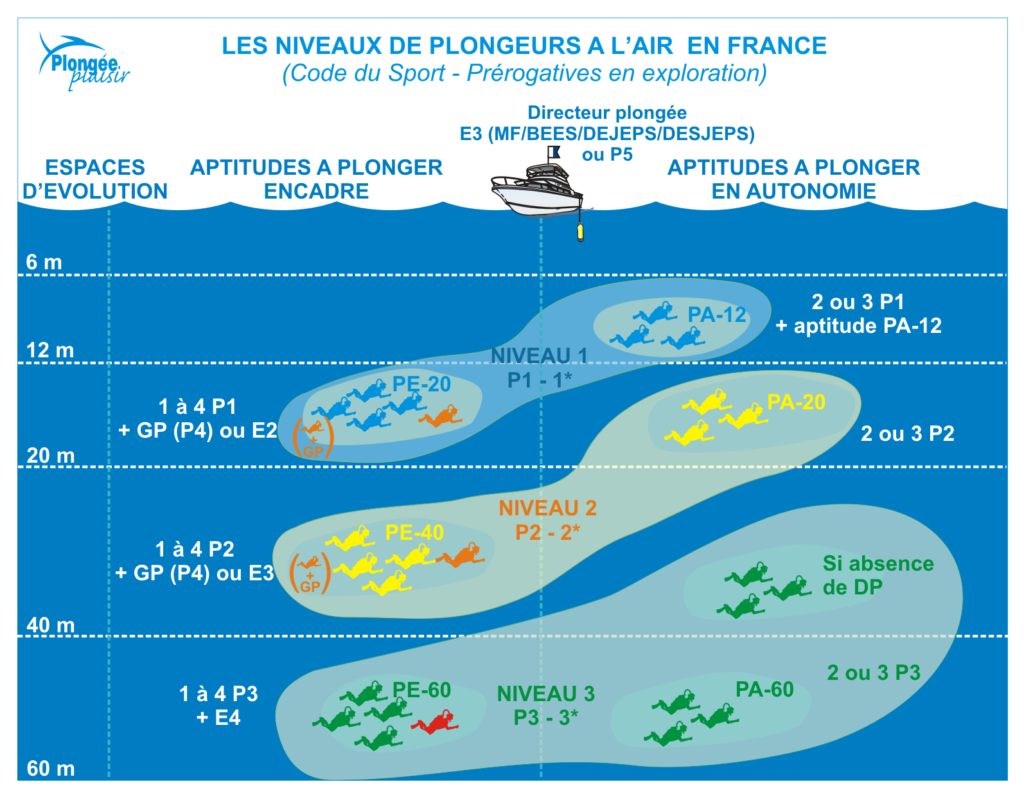 Plongée Plaisir : les livres compagnons de votre formation
© Extract fromPleasure Diving booksby Alain Foret at Editions GAP.
Any reproduction prohibited on any medium whatsoever without the written consent of the publisher and the author.