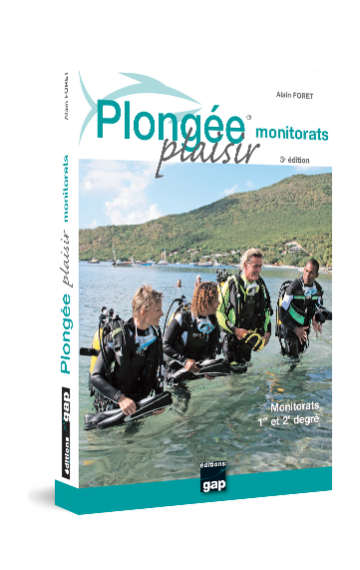 37,00 €
Publisher:

528p.

Editor:

GAP editions

Editing:

3rd edition, January 2019

Available in:

Paper, eBook

ISBN:

9782 74170 6212
Read an excerpt
Resellers near you
Buy the paper version online
N ° 1 FOR DIVING TRAINING BOOKS


3rd edition of this reference book for your training in French federal (FFESSM and FSGT), state (BPJEPS, DEJEPS, DESJEPS) and international (CMAS, FSSS, LIFRAS, PADI, NAUI, SSI, etc.) monitoring.

Presentation
A breakdown into 121 sheets covering the entire scope of the program:
– pedagogy (general, practical, theory);
– dive direction;
- organization;
- regulations.
The book is divided into 4 parts:
General pedagogy (sheets n°1 to 26).
teach the practice
21. Main technical gestures to be taught (sheets n°27 to 66)
22. Building a course (sheets n°67 to 79)
Teach Theory
31. Main topics to be taught (sheets n°80 to 94)
32. Carry out a lesson (sheets n°95 to 101)
Diving management, organization and regulations (sheets n°102 to 121)
---
UPDATES
When changes, mainly regulatory, are published after the release of a Plongée Plaisir edition, we provide you here either with the page to print which replaces that of your book or with the updated information.
If you have 2nd edition (in addition to 3rd edition updates):
Medical certificate, decree of July 24, 2017 and new provisions of the FFESSM which resulted from it (replaces page 461 and supplements pages 458 and 459 of Plongée Plaisir Monitorats):Click here.
Cylinders, TIV regime, concerns the provisions of the decree of Nov. 20, 2017 applicable on January 1, 2018 – requalification from 5 to 6 years in the TIV regime (complete page 443 of Plongée Plaisir Monitorats):Click here.
If you have the 3rd edition (edition currently on sale, published in 2019):
Elimination of aspirin as relief since 2020. Incidence pp. 361, 363, 507, 511.
Page 449 (warning, safety and emergency equipment): a system for securing diving cylinders is no longer part of the obligations mentioned in division 240 of 2019 (boating safety) published after the publication of the 3rd edition.
Division 240 modified in 2019, after the publication of the 3rd edition:appendix 240-A-1 replacing page 462.
Page 481: the CNDS has been replaced by theNational Sports Agency(ANS) – law n° 2019-812 of August 1, 2019 published after the publication of the 3rd edition.
Arrêté du 25/11/2022 : Les plongeurs mineurs ne sont pas autorisés à évoluer en autonomie (principe général, art. A322-73 du code du sport), sauf pour les plongeurs âgés d'au moins 16 ans justifiant des aptitudes PA-12 ou PA-20 and les plongeurs âgés d'au moins 17 ans justifiant des aptitudes PA-40 (art. A322-88, autorisation parentale et autorisation du directeur de plongée).
Pour en savoir plus : https://www.plongee-plaisir.com/fr/plongeurs-mineurs-et-autonomie/
---
New in the 3rd edition
In general, taking into account all regulatory changes.
Taking into account changes in the curriculum of educational organizations.
Added: Pedagogical sheet: Guiding your team.
Added: Regulation sheet on Personal Protective Equipment (PPE).
Added: Technical Lift Demonstration Sheet (ex. DTMR).
Additional details on teaching through skills (modified diagram).
Complements on the technique allowing a respectful kicking.
Modification of the sheet on Oral-nasal Dissociation (Warning:Inhaling through the mouth and blowing through the nose on the surface, that is to say dry, with or without a regulator in the mouth, is of little use. In any case, this does not provide information on the student's ability to manage bucconasal dissociation in immersion. Indeed, the difficulties only appear in the presence of water on the mucous membranes. This point was added following the observation, during the initiator's reviews, of a misunderstanding of the phenomenon, due in particular to imprecise information available on various websites).
Details regarding the skills expected in the event of water intrusion into the mask: first and foremost the diver must be able to continue to dive and breathe calmly with water in the mask (and of course, he must be able to empty it , but the desired objective is the absence of panic in the event of water intrusion and the continuation of normal ventilation).
Freediving: details on the obligation to report (red flag with white diagonal or Saint-André cross).
Revision of the sheet on rinsing and disinfection of equipment to take into account new disinfectant products (environmental standards, hydrogen peroxide, "hydrogen peroxide").
Overhaul of the scuba tank sheet (decree of 20 November 2017, BSERR n ° 15-106, BSEI n ° 09-086 - Requalification passed to 6 years in the TIV regime).
Details on the safety data sheet, also incorporating the requirements of the labor code.
Redesign of the sheet on teaching desaturation (more details on desaturation models and on dive computers).
Redesign of the information on the medical certificate in order to take into account the new regulations (sports code). Addition of specific constraints (labor code) for employers and employee monitors (reinforced individual monitoring in application since 01/01/2017.).
Overhaul of the information on the Alpha flag to take into account the latest orders from the maritime prefectures (2018) as well as the transport code (signalling in fresh water).
Redesign of information on division 240 (Plaisance, Training vessel) to take into account the new definitions (eg shelter), the new navigation areas.
Integration of the new Cerfa print concerning the obligation to report an accident or serious incident.
Addition of regulatory elements related to hyperbaric work
1. Single risk assessment document (DUER);
2. Drafting of procedures and intervention methods;
3. Hyperbaric Safety Manual;
4. Safety card;
5. Position notice;
6. Hyperbaric fitness certificate (CAH);
7. Issue of an individual hyperbaric booklet;
8. Hyperbaric Prevention Counselor Certificate;
9. Gas analysis;
10. Medical certificate: reinforced individual monitoring in application since 01/01/2017;
11. Surface monitoring;
12. Hyperbaric risk: a hardship factor at work from 60 interventions per year.
Integration of new elements concerning the BPJEPS Sports educator mention "underwater diving" option "A in scuba" which is E2 (while the BPJEPS "underwater diving" is E1) and the DEJEPS mention "underwater diving activities" which is E3 ( then of the DEJEPS mention "underwater diving" is E4).
Updating of the examples of MF1 subjects for the pedagogy of theory, pedagogy of practice and organization and safety tests.
Addition at the end of this web page of links to sites presenting MF1 annals subjects on pedagogy tests
Overhaul of the sheet on pedagogy in the 2nd degree.
---
Erratum (3rd edition)
Page 9 : Regard au 2e degré, lire '"voir fiche n°122″ et non 120.
---
View an excerpt to preview the book (pdf)
[gview file="https://www.plongee-plaisir.com/fr/pdf/extraits-ppm.pdf"]
SUMMARY
User manual
1st PART: GENERAL PEDAGOGY
Presentation
STEP N°1 LEARNING
Sheet n°1 Getting students active
Sheet n°2 Limit the number of new instructions
Sheet n°3 Brief and orderly briefings
Sheet n°4 The notion of justification
Sheet n°5 The weight of words
Sheet n°6 Tips for successful communication
Sheet n°7 The notion of feedback in pedagogy
Sheet n°8 The 3 memories
Synthesis
STEP 2 HOW TO DEVELOP SKILLS
Fiche n°9 Notion de "prérogatives"
Sheet n°10 The 3 skills
Fiche n°11 La notion de "compétences"
Sheet n°12 Developing skills through problem situations
Fiche n°13 La notion de "transfert d'apprentissage"
Fiche n°14 Logique "Prérogatives/Compétences"
Synthesis
STEP N°3 OBJECTIVES AND PEDAGOGICAL PROGRESSION
Sheet n°15 Pedagogy by objectives
Sheet n°16 The notion of prerequisites or pre-requisites
Sheet n°17 ​​The notion of acquired knowledge
Sheet n°18 The notion of educational progression (partly new)
Synthesis
STEP N°4 LEARNING DIFFICULTIES
Sheet n°19 Sources of difficulties
Fiche n°20 La notion de "stress"
Fiche n°21 La notion de "remédiation" ou de "régulation"
Synthesis
STEP N°5 EVALUATION
Sheet n°22 The different forms of evaluation
Sheet n°23 Evaluation criteria
Sheet n°24 How to write an exam subject
Sheet n°25 Self-assessment
Sheet n°26 Scoring
Synthesis
PART 2: TEACHING THE PRACTICE
2.1. Main technical gestures to be taught, technical and pedagogical advice
Sheet n°27 Rigging a diving suit
Sheet n°28 Derigging a diving suit
Sheet n°29 Rinsing and disinfection of equipment
Sheet n°30 Winterizing the equipment
Sheet n°31 Fins
Sheet n°32 Lifting kicking
Sheet n°33 Ventral kicking
Sheet n°34 Dorsal kicking
Sheet n°35 Respectful kicking
Sheet n°36 Surface capping and stripping
Sheet n°37 The mask
Sheet n°38 Oral-nasal dissociation (DBN)
Sheet n°39 Mask emptying (VDM)
Sheet n°40 Breathe with water in the mask
Sheet n°41 The tuba
Sheet n°42 Mouthpiece/snorkel passage
Sheet n°43 Initiation to apnea
Sheet n°44 Freediving training
Sheet n°45 Combination and ballasting
Sheet n°46 Launching techniques
Sheet n°47 Immersion techniques
Sheet n°48 Letting go of the mouthpiece (LRE)
Sheet n°49 Prevention of the risk of air failure
Sheet n°50 Reaction to an air failure (supervised diver)
Sheet n°51 Reaction to an air failure (autonomous diver)
Sheet n°52 Reaction to an air failure (team leader)
Sheet n°53 Signs of diving
Sheet n°54 Rise on expiration
Sheet n°55 The lung-ballast
Sheet n°56 The waistcoat
Sheet n°57 The vest: a buoy on the surface
Sheet n°58 The vest: a stabilization aid
Sheet n°59 The ascent of a diver in difficulty
Sheet n°60 Technical demonstration of ascent (ex. DTMR)
Sheet n°61 Evolving in a team
Sheet n° 62 Guiding a team
Sheet n°63 Use of a landing parachute
Sheet n°64 Diving orientation
Sheet n°65 Model (level 4 and initiator)
Sheet n°66 Baptism
2.2. Build a course
Fiche n°67 : "Commençons par la fin" ou "quel résultat faut-il obtenir" ?
Sheet no. 68: Differences between the practice framework and the examination framework
Sheet n°69: Phase 1 – reception
Sheet n°70: Phase 2 – presentation of the exercises
Sheet n°71: Demonstration of the monitor
Sheet n°72: Dry rehearsal by the pupils
Sheet n°73: Phase 3 – presentation of the session
Sheet n°74: Phase 4 – Reminder of safety rules and instructions
Sheet n°75: Phase 5 – carrying out the session in the water
Sheet n°76: Phase 6 – Debriefing
Sheet n°77: The different types of subjects
Sheet n°78: Practical pedagogy and preparatory pedagogy, examples of subjects
Sheet n°79: Examiners and marking criteria
PART 3: TEACHING THEORY
3.1. Main topics to teach
Sheet n°80: Why do we do diving theory courses?
Sheet n°81: A prerequisite for mastering the content
Sheet n°82: Delimitation of the course, the logic of prerogatives/skills
Sheet n°83: Teaching on the ears while diving
Sheet n°84: Teaching about the risk of pulmonary overpressure
Sheet n°85: Teaching ADD risk prevention
Sheet n°86: Teaching desaturation: desaturation models, computers, tables
Sheet n°87: Teaching the prevention of shortness of breath
Sheet n°88: Teaching about the cold while diving
Sheet n°89: Teaching about the risks of drowning
Sheet n°90: Teaching on the prevention of hypoxic syncope
Sheet n°91: Teaching on the prevention of narcosis
Sheet n°92: Teaching about anatomy and physiology
Sheet n°93: Teaching about physics in diving
Sheet n°94: Teaching about the underwater world
3.2. Carry out the courses
Fiche n°95 : "Commençons par la fin" ou "quel résultat faut-il obtenir ?"
Sheet n°96: Differences between the real frame and the examination frame
Sheet n°97: Making a plan
Sheet n°98: Preparing course content
Sheet n°99: Use of the different course materials
Sheet n°100: Completing the lesson
Sheet n°101: The framework of the examination
PART 4: DIVING MANAGEMENT, ORGANIZATION AND REGULATIONS
Sheet n°102: Regulations – Sources
Sheet n°103: Regulations – Definitions
Sheet n°104: Regulations – Mandatory equipment
Sheet n°105: Regulations – Diver prerogatives
Sheet n°106: Regulations – Prerogatives of the dive guide (GP, P4)
Sheet n°107: Regulations – Prerogatives of teachers (instructors)
Sheet n°108: Regulations – The diving director (DP)
Sheet n°109: Regulations – Diving cylinders and pressure vessels
Sheet n°110: Regulations – Personal protective equipment (PPE)
Sheet n°111: Regulations – The establishment of APS
Sheet n°112: Regulations – The boat
Sheet n°113: Regulations – Concepts of responsibility
Sheet n°114: Regulations – Insurance
Sheet n°115: Regulations – The medical certificate
Sheet n°116: Regulations – The license
Sheet n°117: Regulations – the actors of diving
Sheet n°118: The organization of dives
Sheet n°119: The organization and safety test for the MF1-FFESSM exam
Sheet n°120: Weather and tides
Sheet n°121: Locate a dive site
Sheet n°122: Elements of understanding pedagogy in the 2nd degree
Index
Pleasure Diving Books
Books at Editions GAP
Examples of subjects from the FFESSM CTRs
The examples presented here are given as an indication, knowing that not all CTRs put the subjects online.
Rapprochez-vous de l'organisateur de votre session de MF1 pour avoir connaissance des attentes et des types de sujets posés.
Printed on certified paper made from paper pulp from sustainably managed forests. The ink used is based on vegetable oil, the printing press adopts a progressive environmental approach validated by Imprim'vert certification.
A question, a suggestion, talk to the author, Alain FORET: Click here.