Publisher:

448 p.

Editor:

GAP editions

Editing:

11e édition, 2023

Available in:

Paper
Télécharger un extrait
Acheter la version papier
#1 DIVE TRAINING BOOKS

11e édition – Entièrement revue et augmentée
Plongée Plaisir 4 covers the entire training program:
level 4 (dive guide);
level 5 (director of exploration dives) of the FFESSM, the FSGT;
du moniteur de plongée : stagiaires pédagogiques fédéraux (MF1, MF2) ou d'État (BPJEPS, DEJEPS, DESJEPS), pour les connaissances théoriques (voir Diving for Pleasure Instructors pour la pédagogie).
Plongée Plaisir 4 est découpé en :
—15 unités logiques (chapitres transversaux) ;
111 fiches ;
7 tests de connaissances ;
325 questions/réponses.
Plus de 180 notes de bas de page indiquent les sources scientifiques ou réglementaires, en plus des références bibliographiques en fin d'ouvrage.
Modification de la 11e édition
La 11e édition de Plongée Plaisir 4 a été entièrement revue en distinguant les connaissances opérationnelles (1re partie, pages 1 à 367 : niveau 4, niveau 5, monitorats) de l'approfondissement des connaissances (2e partie, pages 368 à 435 : monitorats).
Une partie sur le matériel (rôle de conseil d'un encadrant de palanquée) a été ajoutée. La partie sur la désaturation a été totalement revue en présentant une approche unifiée de la désaturation (modèles Haldaniens et jeux de paramètres associés ; limites des modèles ; M-Values de Workman ; approche de Bühlmann ; paramètres MN90 ; Facteurs de Gradient (GF) ; tentatives de prise en compte des noyaux gazeux (RGBM, MB) ; nombre de plongées par 24h et intervalle en surface ; vitesse de remontée ; Remontées rapides, yo-yo, dents de scie ; paliers obligatoires, facultatifs, profonds ; procédures hétérogènes ; ordinateurs et tables …). La partie sur la prévention des risques a également été remodelée.
Une édition :
entièrement repensée dans la forme afin de mieux répondre aux besoins des encadrants de palanquée ;
revue dans le contenu afin de présenter l'ensemble des connaissances nécessaires selon le brevet concerné.
Vous pouvez visualiser un extrait (ci-dessous) afin de consulter le plan et avoir un aperçu du nouveau contenu.
Ressources
Pour la 11e édition :
Visualiser le plan et des extraits du contenu
PP4-2023-Extraits

Errata
Page 25 : En autonomie, le nombre de plongeurs dans la palanquée est de 2 au minimum, 3 au maximum. Ils doivent tous être majeurs. [Voir page 20 pour les conditions d'évolution en autonomie des mineurs de 16 et 17 ans]
Modification de la formule de calcul des GF afin de mieux correspondre aux calculs des ordinateurs de plongée : Click here.
À suivre
Évolutions en cours à la FFESSM pour la plongée des enfants et des jeunes plongeurs : Click here.
In the press
Innovative, both in form and in substance, complete, richly illustrated, with photos and diagrams, and embellished with numerous exercises. Diving Magazine
We salute the great clarity of this book, both of the effective pedagogical approach based on common sense and safety, as well as that of the diagrams and illustrations. In short: bravo! International Divers
Plongée Plaisir N4 has the promise of a well-deserved career… Subaqua - Review of the FFESSM
They witness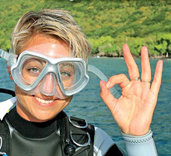 Philippe « Très bon livre pour la formation P*** CMAS de plongée. Je suis Moniteur Suisse et j'utilise ce livre dans le cadre de mes formations. J'ai commandé cette 8ème édition pour une formation en cours et je trouve vraiment que ce livre est toujours au top de l'actualité et de la formation que l'on souhaite transmettre. C'est un bon investissement pour les élèves et un bon support pour les moniteurs. Je rappelle cependant que l'apprentissage de la plongée se passe dans l'eau que ces livres sont à utiliser en complément d'une formation. Bon cours! »
André « Que ce soit du N1 au N4, collection parfaite, bon équilibre entre explication exemple et exos. A mettre entre toutes les bulles de plongeurs… »
Cerianth

« Ouvrage très clair et très complet, comme tous ceux de la série. ».
Rogn « Excellent support pour travailler et présenter le niveau 4. »
Livres édités et distribués par les Editions GAP
Printed on certified paper made from paper pulp from sustainably managed forests. The ink used is based on vegetable oil, the printing press adopts a progressive environmental approach validated by Imprim'vert certification.
A question, a suggestion, talk to the author, Alain FORET: Click here.
On the same subject …