INFO SHEETS > THE ASCENT PHASE
Rapid ascent (and desaturation protocol)
Last updated: March 15, 2021
Type of risk : promotes accidents of desaturation (ADD) by the creation of bubbles.
Taken into account by desaturation models : no.
Dive computers handling the case : no.
Dive tables handling the case : none.
Catch-up procedure : possible, under conditions. Taking advantage of the deadline for setting up an ADD (Michaud).
Recommendations : never do a rapid ascent.
Similar risk dive profiles : yo-yo dives and sawtooth dives.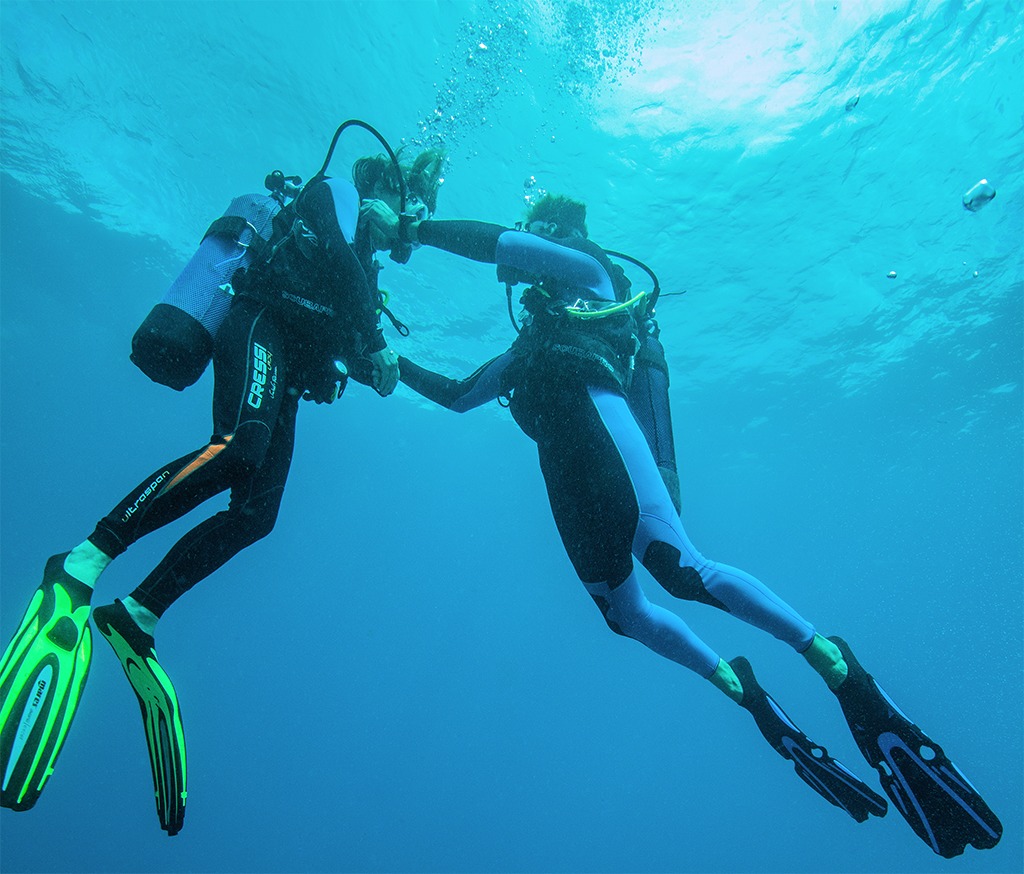 Presentation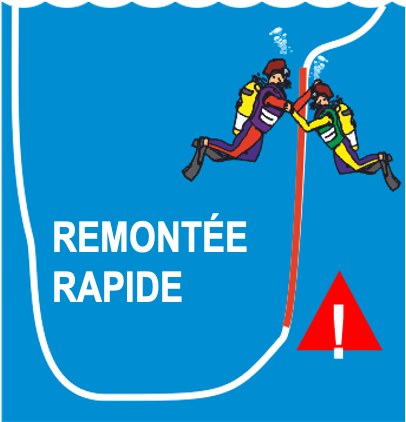 A rapid rise is a factor increasing the risk of accidents of desaturation (ADD) by the production of bubbles that it causes.
A rapid ascent is inherently dangerous. It is all the more so as the state of saturation of the divers is important (time and depth of diving, successive dives with current interval).
No desaturation model (and therefore no computer and no dive table) integrates the modeling of a rapid ascent which, by definition, cannot be made sure by a desaturation protocol (it would be like expecting doctors to they make smoking or alcohol harmless).
The remedial procedures that may be offered (example re-immersion at half-depth) are outside the models. Practiced for decades, they have shown their effectiveness without offering a 100% guarantee.
Any rapid ascent is therefore dangerous and must be avoided.
Definitions
Définition « physiologique »
Une vitesse de remontée est dite « rapide » si elle est dangereuse physiologiquement pour le plongeur. Depuis 1990, la « bonne » vitesse de remontée retenue mondialement est de 10 m/min (read more), or of the order of 9 to 12 m / min in practice.
Consequently, a rapid ascent would be an ascent at a speed greater than 12 m / min.
Définition « selon le protocole de désaturation »
If we consider the desaturation protocol (computers or tables), then a rapid ascent is an ascent at a speed greater than the maximum speed authorized by said protocol or the accepted tolerance margin (e.g. 110 to 120% of the maximum authorized speed for a period x).
This definition poses the following problems:
If the right speed for our body is of the order of 10 m / min (9 to 12 m / min), the protocols accepting faster maximum speeds can therefore be at risk (e.g. initial speed of the MN90 tables: 17 m / min *; US-Navy tables before 1993: 18 m / min; dive computers with Genesis or Hollis models which provide for an ascent at the maximum speed of 18 m / min).
* First reduced to 15 m / min, the ascent speed of the MN90 tables has been further reduced recently.
If the correct speed for our body is in the order of 10 m / min (9 to 12 m / min), then computers that predict a significantly lower ascent rate may go into alarm unnecessarily.
Additional resource: Pleasure Diving Info sheet allowing you to download the user manuals for the dive computers.
Conclusion on definitions
It is regrettable, even though the ascent speed of the order of 10 m / min (9 to 12 m / min) has been a consensus within the scientific community for more than 30 years (Lang & Egstrom,Biomechanics of Safe Ascents Workshop, American Academy of Underwater Sciences, 1990), that not all computers or dive tables have adopted it.
Fortunately, the US-Navy tables (modified since 1993) and many computers, have done so. As for the Bühlmann or Comex tables, this was already the speed chosen from their conception.
Pour notre part, nous retiendrons donc la définition « physiologique » : la « bonne » vitesse de remontée est une vitesse s'éloignant peu de 10 m/min (9 à 12 m/min). Au-delà de 12 m/min, la remontée est trop rapide.
Problem
Aucun modèle de désaturation, qu'il soit transcrit sous forme de tables (ex. MN90, Bühlmann, US-Navy, Comex) ou programmé dans un ordinateur de plongée (Bühlmann, US-Navy, Comex, RGBM) ne sait « gérer » une remontée rapide, c'est à dire une remontée supérieure à la vitesse prévue par le modèle.
Strictly speaking, you should therefore never do a rapid ascent.
In practice, many educational organizations, in recreational diving as well as in professional diving, are faced with learning phases where more or less rapid ascent rates can occur. What to recommend in this case:
Do nothing and let a possible accident occur? It would be irresponsible.
Systematically trigger an alert procedure with sending to the caisson? This would lead to dozens of box passages per day at the height of the season. This would be both unrealistic and probably perverse because it would lead to unnecessary congestion in hospitals.
Think that in the learning phase, no one will make a rapid recovery? It would be utopian.
Suggest a procedure.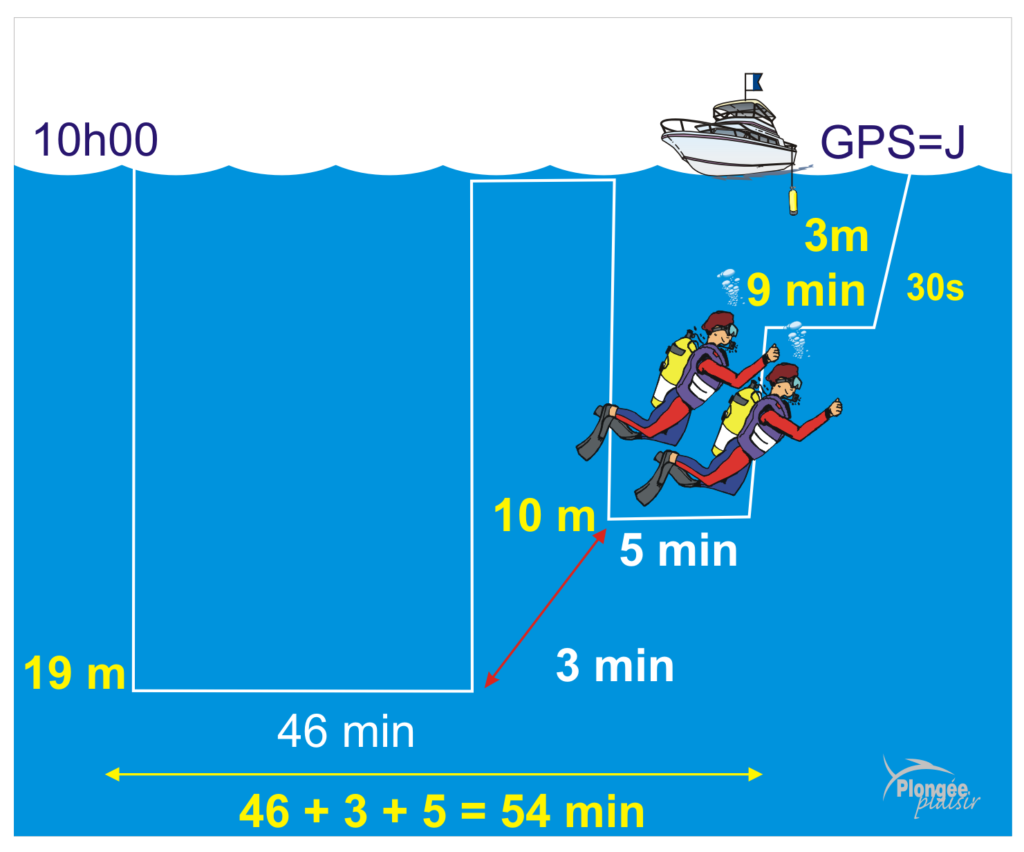 The 5 min half-depth procedure in the event of a rapid ascent is not specific to the MN90 tables.
It can be used with other desaturation protocols (tables, computers). For information, the Ministry of Labor uses this procedure for the MT 92 tables (MT 2012), as does the Swiss Federation of Underwater Sports with the Bühlmann tables.
Survey carried out by Plongée Plaisir between March 3 and 8, 2019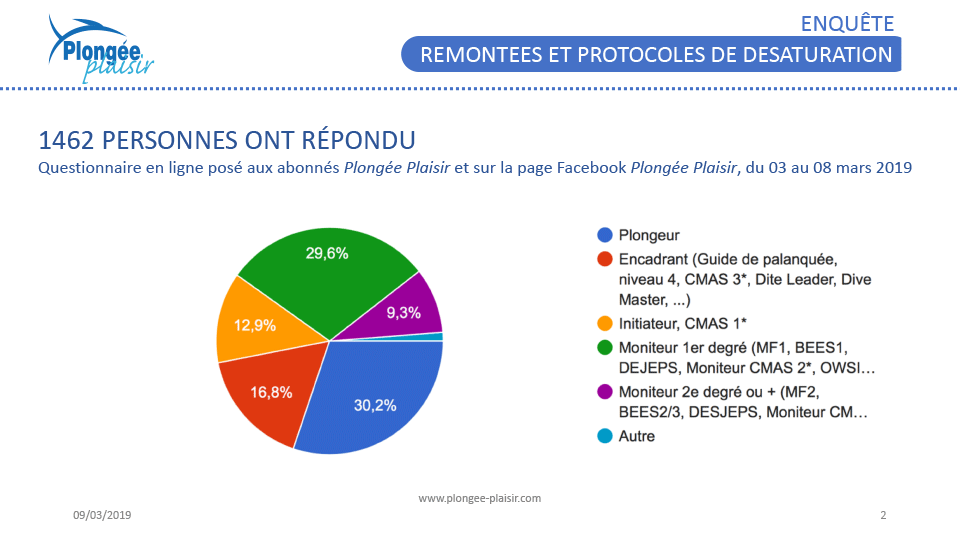 Download the results of the survey on the subject, asked from March 3 to 8, 2019 among Plongée Plaisir members and Plongée Plaisir readers on Facebook.
1462 people responded.
The results provide the correct answers with explanations as well as the survey statistics.
Why would it be possible to propose a procedure?
As stated in particular in Diving for Pleasure 4, a desaturation accident (ADD) is not binary. It settles down then progresses. Hence the absolute urgency of the emergency services, the speed of treatment allowing serious consequences to be avoided.
In particular, Michaud's work has shown that there are different phases from the appearance of potentially pathogenic bubbles:
Une première phase dite « de constitution » au cours de laquelle le phénomène serait réversible. C'est le délai de rattrapage de 1*, 2 ou 3 minutes mis à profit dans certaines procédures (voir la Pleasure Diving Info Sheet : 3 minutes, what justification?).
An organizational phase during which the bubbles accumulate, grow, merge, form clusters and settle.
A phase of unrest.
A phase of possible sequelae.
* For example, Bühlmann indicates in his model (Decompression, Decompression Sickness, 1984) having left the possibility of interrupting the 3 m level for a maximum of one minute to surface, find one's bearings and then continue its desaturation.
Half-depth, a popular rule-of-thumb procedure that is not an integral part of the MN90 tables
The latency period mentioned above gave rise to an empirical procedure which has its origin in heavy-foot divers: re-submerging for 5 minutes at half-depth (or half-pressure).
This procedure is not part of the desaturation models (no equation integrates it) but of their instructions for use, which each organism then adapts in its own way. One principle is accepted by all: this procedure can only be implemented in the absence of an accident (signs, symptoms) and offers no guarantee.
Thereby :
The Navy indicates in his Scuba Diving Instructions (IPA) that the convention adopted in the event of a rapid ascent consists of having a maximum of 3 minutes to re-immerse, that it is necessary to reach the half-depth in 1 minutes maximum, stay there 5 minutes then add these 9 minutes (3 + 1 + 5) to dive time. The minimum stops are then 1 minutes at 6 m and 5 minutes at 3 m (previously this minimum was 2 minutes at 3 m). No dives can take place within 12 hours.
The FFESSM indicates, regarding the MN90 tables used for theoretical examinations, a maximum re-immersion time of 3 minutes while remaining 5 minutes at half-depth. The time between the start of the incident and the end of the stay at half depth (eg 8 min.) Must be added to the dive time. The minimum stops to be achieved are then 2 minutes at 3 m. From when does the stopwatch start to count the 3 minutes ? This procedure being the result of an empirical approach, there is no rule. The key is to agree on a convention… essentially to facilitate the work of the examiners! In the books Pleasure Diving, we retained that the 3-minute delay would run from the start of the error (speed too fast) until the finish at half-depth. Nothing prevents defining another convention.
MT 92 tables (« MT 2012 », Comex) proposent la même procédure en cas de remontée rapide (Journal Officiel de la République Française : « Work in hyperbaric environment ").
If the model of Pr Bühlmann does not provide for the case of a rapid ascent, the user manual of the FSSS (Swiss Federation of Underwater Sports) talks about it and recommends the same procedure of 5 min at half depth. Brochure of the FSSS about the tables of Prof. Bühlmann from 1986: (pages 2 and 3).

After surfacing, you have a maximum of 3 minutes to dive again: you will have to descend to half of the maximum depth reached and stay there for 5 minutes.
The catch-up decompression will finally be calculated from the maximum depth reached and the total time that has elapsed since the immersion until that moment (i.e.: dive time + ascent time + time spent to the surface + time of descent + 5 min. at half-depth).
Acknowledgments: Claude Millasson for this part on the Bühlmann tables and the FSSS protocol.
Half depth is not part of the MN90 model and is therefore not specific to its instructions for use
The document by Dr Jean-Louis Méliet who created the MN90 tables does not envisage fast lifts (just like Bühlmann and the other models). It is the IPA of the French Navy (or other protocols) which determine how to use the tables in the event of a rapid ascent.
In the original instructions for use of the MN90 tables (pages 42 to 45), the procedures to be followed in the event of rapid ascent or interrupted stages (both are dangerous) are not indicated. The reason is simple: it is not part of the modeling.
It is therefore completely unfounded to claim that the half-depth procedure is part of the model of MN90 tables and could not be implemented outside this framework. As a result, the claim spread on social networks, according to which: "It MUST be clarified that this procedure is not compatible with the indications of our dive computers because in this case there is a mixture of TWO desaturation procedures for the same dive and it's serious! " is false.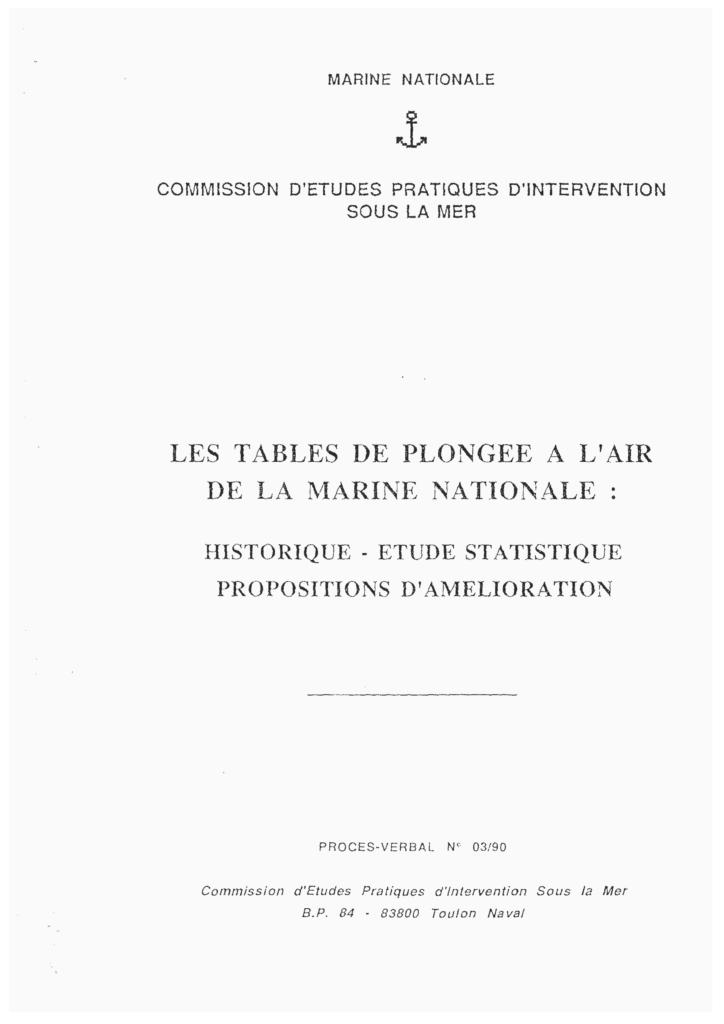 Original publication by Dr Jean-Louis Méliet creating the MN90 tables.
Comme pour tous les protocoles de désaturation, aucune procédure n'est prévue pour les remontées rapides car cela n'est pas modélisé. Il est donc faux de vouloir associer la procédure de demi-profondeur ou demi-pression (5 min) exclusivement au tables MN90. Cette procédure ne fait pas partie du modèle mais du « mode d'emploi » des organismes de plongée. La demi-profondeur en cas de remontée rapide (sans accident) est une procédure généralisée, reprise par les IPA de la Marine Nationale, le ministère du travail (tables MT92, MT 2012), la Fédération Suisse des Sports Subaquatiques (FSSS) pour les tables Bühlmann, etc. Une remontée rapide reste une procédure DANGEREUSE, non modélisée et qui ne doit jamais être faite volontairement.
An ambiguous situation, common sense and security must prevail over any dogmatic approach
This is true for all desaturation models: they are "made" for a certain ascent rate. Any faster speed is "outside the model". The rule is that there is NEVER a rapid ascent (or break in the level), because it is extremely dangerous..
This brings us back to the choices already mentioned at the beginning of the article:
Do nothing and let a possible accident occur? It would be irresponsible.
Déclencher systématiquement une procédure d'alerte avec envoi au caisson ? Cela conduirait à des dizaines de passage en caisson par jour au plus fort de la saison. Ce serait à la fois irréaliste et probablement pervers car cela conduirait à engorger inutilement les hôpitaux.
Think that in the learning phase, no one will make a rapid recovery? It would be utopian.
Proposer une procédure, faute de mieux, à la condition que les plongées aient peu saturantes (ex. début de plongée) et qu'il n'y ait aucun signe d'accident.
Dit autrement : Faute de mieux, cette procédure de réimmersion de 5 min à demi-profondeur en l'absence d'accident peut tout à fait être utilisée avec un ordinateur de plongée.
Comme préconisé dans les livres Diving for Pleasure, il est possible de cumuler, en cas de remontée rapide (début de plongée*, peu de saturation), les indications d'une table de plongée avec celles d'un ordinateur et retenir le plus restrictif des deux.
FAITES LE TEST ET VOUS VERREZ QUE DANS LA PLUPART DES CAS, LES ORDINATEURS DE DERNIÈRES GÉNÉRATIONS SERONT PLUS RESTRICTIFS QUE LES TABLES MN90-FFESSM ET FONT PARFAITEMENT LEURS CALCULS EN CAS DE RÉIMMERSION À DEMI-PROFONDEUR.
* Cas classique des plongées d'enseignement (remontée gilet, DTMR) avec exercices en début d'immersion.
In conclusion
Dans tous les cas :
Les remontées rapides ne doivent jamais être banalisées, ce qui est malheureusement souvent le cas dans l'enseignement français.
Les remontées rapides ne doivent jamais être réalisées volontairement.
Elles doivent être évitées autant que possible (inutile de laisser dégénérer une situation s'il n'y a aucun bénéfice pédagogiques).
Il faut enseigner le caractère « empirique », et donc sans aucune garantie, de cette procédure qui reste mise en place « faute de mieux », mais qui a fait ses preuves depuis des dizaines d'années et qui est inscrite dans la réglementation française sur les travailleurs hyperbares (annexe I du 24/05/2019 sur la réglementation hyperbare (MT92 tables - Comex).
Cette procédure n'est pas spécifique aux tables MN90-FFESSM, elle est également mise en oeuvre avec d'autres modèles.
En cas de saturation élevée (ex. fin de plongée), un arbitrage doit avoir lieu entre la procédure de réimmersion à demi-profondeur et le déclenchement des secours. Cette procédure est avant-tout justifiée en début de plongées d'enseignement, avec une faible saturation.
Un corps humain n'est pas une éprouvette dans un laboratoire de physique. Une recompression à demi-profondeur n'annihile pas le phénomène bullaire qui provoque, dans tous les cas, des mécanismes physiologiques de défense.
Il est tout à fait possible d'enseigner les remontées sans jamais faire de remontée rapide, c'est une question de pédagogie mise en place (voir Diving for Pleasure Instructors, fiche n°59 sur les techniques pédagogiques d'enseignement de la remontée gilet). Notre enseignement doit évoluer.

Alain Foret
BEES2 / DESJEPS Plongée
Author of books and educational materials Diving for Pleasure
© Extract fromPleasure Diving books aux Editions GAP.
Any reproduction prohibited on any medium whatsoever without the written consent of the publisher and the author.