INFO SHEETS > INITIATE YOU
The vocabulary of diving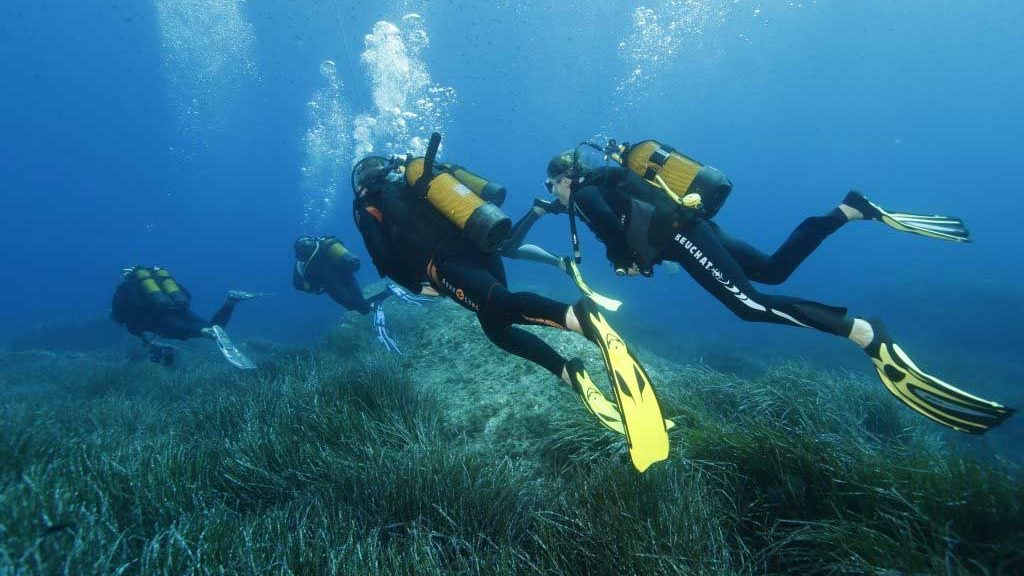 ADV: Adjustable Diving Vest. Adjustable waistcoat using adjustable straps (see waistcoat).
Alpha (pavillon) : pavillon international correspondant à la lettre « A » et indiquant la présence de plongeurs en immersion. C'est le seul pavillon reconnu officiellement. Un pavillon rouge avec une bande blanche (pavillon nordaméricain) est arboré dans certaines zones.
AMCQ: Association of CMAS instructors of Quebec.
Autonomy (calcul d') : calcul du temps de plongée maximum à une profondeur donnée). Autonomie (plongée en) : plongée entre plongeurs de niveau équivalent, sans guide de palanquée.
Back-pack : système de sanglage avec un dos rigide sur lequel se fixe une bouteille de plongée.
Bar : unité de mesure de la pression. Barotraumatisme : traumatisme dû aux variations de pression.
Bathymeter : voir profondimètre.
BEES (1, 2, 3) : Brevet d'Etat d'Educateur Sportif 1er, 2e ou 3e degré (France). Benthique : qui vit près ou sur le fond des mers et océans. Bloc : bouteille de plongée. Bouée: ancêtre du gilet, dont la fonction initiale était la sécurité du plongeur en dehors de toute notion de confort. Désormais, ce terme désigne indifféremment une bouée, un gilet ou tout dispositif similaire. Bout (prononcer le « t ») : cordage.
BPJEPS : Brevet Professionnel de la Jeunesse, de l'éducation Populaire et du Sport. Capelage : action consistant à mettre son bloc sur le dos. Carnet de plongée : carnet sur lequel sont inscrites toutes vos plongées, généralement visées par un club ou un encadrant.
CMAS: World Confederation of Underwater Activities. Created in 1959 (founding president J.-Y. Cousteau), CMAS brings together more than 100 countries and ensures worldwide recognition of patents.
CMAS.CH: Swiss Association of CMAS Monitors.
Dry or dry suit : vêtement de plongée ne laissant pas pénétrer d'eau. Leur utilisation nécessite un apprentissage particulier. Combinaison semi-humide : combinaison humide limitant grandement les entrées d'eau avec un système de fermeture à glissières étanche.
Coralligenous : sorte de « roche » créée par certaines algues, dures comme de la pierre, qui lorsqu'elles meurent, restent en place, bâtissant ainsi des massifs poreux riches en vie.
Curve of no-stop dives : limite de temps sans palier à une certaine profondeur (10 mètres, 15 mètres, 20 mètres, etc.), telle qu'indiquée dans des tables ou ordinateurs de plongée.
DAN: Miscellaneous Alert Network. It is a non-profit association that brings together professionals in safety or diving medicine. Its stated goal is mutual aid between divers.
Stripping : action consistant à retirer son bloc.
DEJEPS : Diplôme d'État de la Jeunesse, de l'Education Populaire et du Sport.
DESJEPS: Higher State Diploma in Youth, Popular Education and Sport.
Regulator : appareil relié à une bouteille de plongée et permettant de respirer sous l'eau, à la demande.
DIN: regulator fixing system meeting the German "Deutsches Institute Norming" standard. Its advantage is that it can withstand pressures greater than 200 bars, which is the current trend, since bottles at 300 bars appear.
Direct-System : système permettant d'utiliser l'air d'une bouteille de plongée pour gonfler un gilet ou une bouée. Appelé aussi inflateur.
Diving director : personne qui choisit les sites et organise les plongées.
See the Info Sheet on the subject.
Group supervisor : désigne indifféremment un guide de palanquée (exploration) ou en enseignant (initiateur, moniteur) encadrant la palanquée.
Stirrup : système servant à fixer un détendeur sur un bloc. Son nom vient de sa forme qui ressemble à un étrier.
FASSAS: Algerian Federation of Rescue, First Aid and Underwater Activities.
FAST : Fédération des Activités Subaquatiques de Tunisie.
Fenzy : nom d'un des inventeurs de la bouée. Par extension, on parle de « Fenzy » en désignant une « bouée » de manière générale.
Security form : Fiche obligatoire à établir sous la responsabilité du Directeur de Plongée. Elle doit contenir :
Names and surnames;
The skills of divers;
Their function in the team;
The various parameters planned and carried out relating to diving.
See the Info Sheet on the subject.
FFESSM: Fédération Française d'Etudes et des Sports Sous-Marins.
FLASSA: Luxembourg Federation of Underwater Activities.
FMAS: Monegasque Federation of Underwater Activities.
FOP : Foramen Ovale Perméable.
FQAS: Quebec Federation of Underwater Activities.
FSAS: Senagal Federation of Underwater Activities.
Vest : système de sécurité gonflable permettant à un plongeur de se maintenir en surface, de s'équilibrer au fond ou de faciliter sa remontée. Le gilet sert aussi à porter sa bouteille de plongée sur le dos.
GPS: Global Positioning System. Satellite positioning system. Widely used to locate dive sites.
Rig a spacesuit : monter un détendeur et fixer un gilet sur une bouteille de plongée.
Group guide : plongeur niveau 4 ou CMAS 3* ayant la responsabilité d'une palanquée.
Swell : mouvement ondulatoire de l'eau, sans vague.
Inflator : voir « Direct-system ».
Instructor : traduit directement de l'anglais «instructor», ce terme signifie simplement « moniteur ». Dans le système français, « instructeur » désigne un cadre de la plongée, chargé de la formation de moniteurs de plongée. Il y a parfois confusion entre ces deux termes.
Club initiator : premier niveau d'enseignant au sein des fédérations.
LIFRAS: Francophone League for Underwater Research and Activities (Belgium).
Manometer: device allowing to know the air pressure available in a diving bottle. There are surface manometers and submersible manometers.
MF1, MF2: Federal instructor 1st degree, Federal instructor 2nd degree.
Nautical or nautical mile : distance correspondant à 1852 mètres.
Mistral : nom d'un des tout premiers détendeurs commercialisés. Ce détendeur légendaire se caractérise par deux tuyaux annelés de couleur noire.
Mono: abbreviation of single-bottle, as opposed to two-bottle.
Mooring : ensemble composé d'une ancre, d'une chaîne et d'un bout (ou d'une ancre et d'une chaîne).
Narcosis : effet toxique de certains gaz qui viennent perturber le système nerveux du plongeur. Dans les plongées à l'air, le gaz responsable de la narcose est l'azote. On parle aussi d'ivresse des profondeurs. Ce phénomène se constate généralement au-delà de 40 mètres, parfois dès 30 mètres pour les sujets les plus sensibles.
Nitrox : air enrichi en oxygène. L'intérêt est de diminuer la quantité d'azote pour limiter les risques d'accidents de décompression. En contrepartie, on plonge moins profond au Nitrox qu'à l'air. Ce type de plongée nécessite un apprentissage particulier.
Node: speed corresponding to one nautical mile per hour.
Ocelle : tache ronde sur une partie du corps d'un poisson (ou de tout autre animal) faisant penser à un «faux oeil».
Octopus : sortie de secours greffée sur un premier étage de détendeur. Si l'on ajoute le flexible du direct-system et celui du manomètre, cela donne l'apparence d'un « poulpe » (octopus en anglais).
OPI : pulmonary edema of immersion.
See the Info Sheet on the subject.
Dive computer : appareil indiquant au plongeur, pendant son immersion, les paliers à effectuer en fonction du temps passé aux diverses profondeurs atteintes.
Palanquée : groupe de plongeurs effectuant une plongée ensemble. Le mot « palanquée » vient de « palan » qui est un appareil de levage. A l'origine, une palanquée désigne les marchandises soulevées par un palan.
Bearing : lors de la remontée vers la surface, arrêt à une certaine profondeur (le plus souvent entre 6 et 3 mètres) pendant un certain temps pour éliminer de l'azote en excès dans notre corps. La profondeur et le temps du palier sont indiqués par des tables de plongée ou des ordinateurs.
Palier obligatoire : Level indicated as such by tables or dive computers. This term appeared in opposition to the notion of "optional level".
Palier profond : Procédure particulière visant à réaliser un premier palier plus profond que celui donné par le modèle de désaturation. Cette notion est aujourd'hui controversée et abandonnée, au moins pour les plongées à l'air. See the Info Sheet on this subject.
Safety stop (or optional) : palier non indiqué par une table ou un ordinateur, mais réalisé « par sécurité ». Cela se matérialise généralement par un arrêt de 3 minutes à 3 ou 6 mètres.
Lifting parachute : instrument gonflable permettant de remonter des objets (ancre par exemple). Il existe des parachutes de relevage de toute taille, de quelques litres à plusieurs dizaines de litres.
Landing parachute : instrument gonflable, de couleur vive (jaune, orange ou rouge en général), servant de signalisation de surface pour les palanquées effectuant leurs paliers.
Diving passport : livret matérialisant votre niveau en plongée et contenant des informations d'ordre sportif et médical.
Pelagic : qui vit en pleine eau.
Hanger : corde ou chaîne lestée « pendant » dans l'eau, d'où son nom. Elle sert de repère aux plongeurs.
Backup plan : Le plan de secours est un written document, adapted to the place and the dive practiced, regularly updated and brought to the attention of the diving director, the people supervising the groups and the scuba divers. It specifies in particular the methods of warning in the event of an accident, the contact details of the emergency services and the emergency procedures to be applied on the surface to the victim.
See the Info Sheet on the subject.
Exploration dive : balade subaquatique sans autre objectif que de visiter les fonds.
Technical diving : Plongée d'enseignement ou de formation à l'activité.
Depth gauge : appareil permettant de connaître la profondeur à laquelle on se situe. Bien que très utilisé en plongée, ce terme ne figure pas dans le dictionnaire où on lui préfère bathymètre.
PSI : (Pounds Square Inch : livres par pouce carré). Comme le bar, c'est une unité de mesure de la pression. 1 bar vaut 14,7 PSI.
Purge: system allowing the evacuation of the air contained in a vest or a dry suit.
Pyle Stop : Voir paliers profonds.
Requalification: operation consisting in filling a diving bottle with water and subjecting it to high pressure, in order to test its resistance. This operation can only be carried out by authorized organizations.
Reserve : quantité d'air minimum à conserver dans une bouteille pour assurer la remontée et les paliers éventuels tout en gardant une grande marge de sécurité. En général, la réserve est fixée à 50 bars.
Surf: waves return on themselves when they encounter an obstacle.
SCA: Approved Commercial Structure. Means, within the FFESSM, a commercial company specializing in recreational diving (exploration, training) and approved as such by the FFESSM.
Scuba diving suit : inventé en 1766 par l'Abbé de la Chapelle, le mot scaphandre signifie « homme-bateau », du grec scaphé (bateau) et andros (homme). Aujourd'hui il désigne l'ensemble bloc/détendeur permettant de s'immerger et de respirer sans lien avec la surface.
SGS : Inflatable Stabilization System (see Vest or Stab).
Shorty : combinaison de plongée avec des manches et des jambes courtes, comme un short. Utilisé dans les eaux chaudes. Sondeur: système permettant de connaître la profondeur, voire de dessiner les fonds marins pour les plus perfectionnés. Très utilisé pour rechercher des sites de plongée.
Stab : abréviation de « stabilizing jacket » qui signifie gilet stabilisateur. On parle indifféremment d'« un » stab ou d'« une » stab.
Dive tables : tableaux indiquant les paliers à effectuer en fonction du temps et de la profondeur de plongée.
Timer : provenant de « time » en anglais, « timer » désigne historiquement un instrument électronique de mesure du temps de plongée. Par abus de langage, ce terme est aujourd'hui synonyme de profondimètre électronique.
TIV : Technicien en Inspection Visuelle. Personne habilitée à inspecter les bouteilles de plongée.
O-ring (seal) : joint qui a la forme d'un tore (sorte d'anneau), d'où son nom. Les joints toriques assurent l'étanchéité entre deux pièces.
Trimix : mélanges gazeux à base d'hélium, d'oxygène et d'azote. Réservés à des plongeurs chevronnés et formés spécifiquement, ces mélanges permettent d'atteindre des profondeurs plus importantes qu'avec de l'air.
Tuba : tube long de 30 cm environ, permettant de respirer tout en gardant le visage immergé.
Valsalva : manoeuvre permettant de compenser l'augmentation de pression agissant sur les oreilles lors d'une descente en plongée.
VHF: Very High Frequency. Système de communication radio très utilisé en mer.
Constant volume : voir combinaison étanche.
© Extract fromPleasure Diving booksby Alain Foret at Editions GAP.
Any reproduction prohibited on any medium whatsoever without the written consent of the publisher and the author.