INFO SHEETS > INITIATE YOU
The vocabulary of diving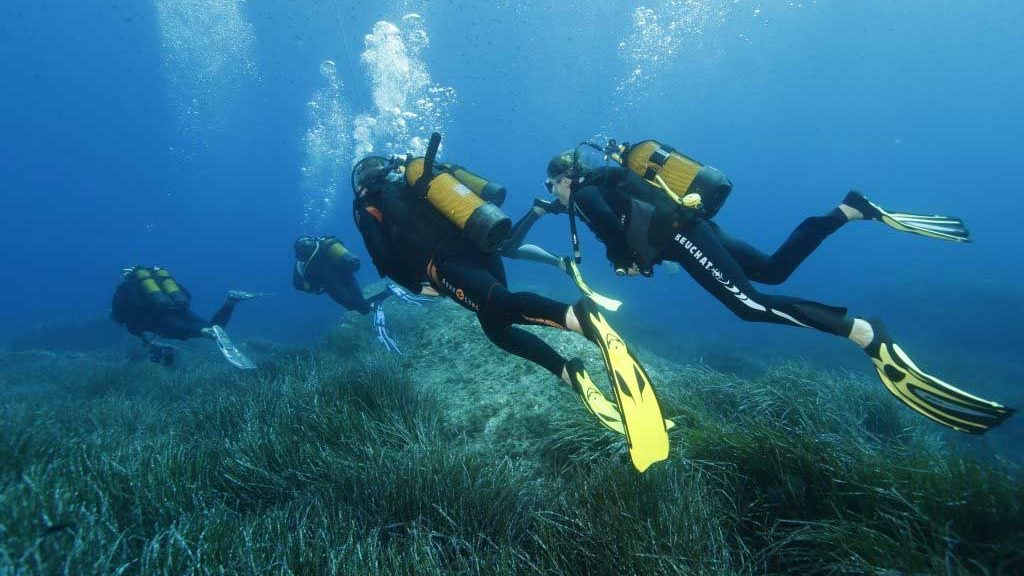 ADV: Adjustable Diving Vest. Adjustable waistcoat using adjustable straps (see waistcoat).
Alpha(flag): international flag corresponding to the letter "A" and indicating the presence of immersion divers. It is the only officially recognized flag. A red flag with a white stripe (North American flag) is flown in certain areas.
AMCQ: Association of CMAS instructors of Quebec.
Autonomy(calculation of): calculation of the maximum dive time at a given depth). Autonomy (diving in): diving between divers of equivalent level, without a dive guide.
Back-pack: strapping system with a rigid back on which a diving bottle is fixed.
Bar: pressure measurement unit. Barotrauma: trauma due to variations in pressure.
Bathymeter: see depth gauge.
BEES (1, 2, 3): State Certificate of Sports Educator 1st, 2nd or 3rd degree (France). Benthic: living near or on the bottom of seas and oceans. Block: scuba tank. Buoy: ancestor of the vest, whose initial function was the safety of the diver apart from any notion of comfort. From now on, this term designates indiscriminately a buoy, a vest or any similar device. Bout (pronounce the "t"): rope.
BPJEPS: Professional Certificate in Youth, Popular Education and Sport. Capelage: action consisting of putting your block on your back. Diving logbook: logbook on which all your dives are recorded, generally approved by a club or a supervisor.
CMAS: World Confederation of Underwater Activities. Created in 1959 (founding president J.-Y. Cousteau), CMAS brings together more than 100 countries and ensures worldwide recognition of patents.
CMAS.CH: Swiss Association of CMAS Monitors.
Dry or dry suit: diving clothing that does not allow water to penetrate. Their use requires special training. Semi-wet suit: wet suit greatly limiting water entry with a waterproof zipper system.
Coralligenous: kind of "rock" created by certain algae, hard as stone, which when they die, remain in place, thus building porous masses rich in life.
Curve of no-stop dives: no-stop time limit at a certain depth (10 meters, 15 meters, 20 meters, etc.), as indicated in tables or dive computers.
DAN: Miscellaneous Alert Network. It is a non-profit association that brings together professionals in safety or diving medicine. Its stated goal is mutual aid between divers.
Stripping: action consisting in removing his block.
DEJEPS: State Diploma of Youth, Popular Education and Sport.
DESJEPS: Higher State Diploma in Youth, Popular Education and Sport.
Regulator: device connected to a scuba tank and allowing you to breathe underwater, on demand.
DIN: regulator fixing system meeting the German "Deutsches Institute Norming" standard. Its advantage is that it can withstand pressures greater than 200 bars, which is the current trend, since bottles at 300 bars appear.
Direct-System: system allowing air from a scuba tank to be used to inflate a vest or a buoy. Also called inflator.
Diving director: person who chooses the sites and organizes the dives.
See the Info Sheet on the subject.
Group supervisor: designates either a team guide (exploration) or a teacher (initiator, instructor) supervising the team.
Stirrup: system used to fix a regulator on a block. Its name comes from its shape which resembles a stirrup.
FASSAS: Algerian Federation of Rescue, First Aid and Underwater Activities.
FAST: Federation of Underwater Activities of Tunisia.
Fenzy: name of one of the buoy's inventors. By extension, we speak of "Fenzy" by designating a "buoy" in a general way.
Security form: Compulsory form to be established under the responsibility of the Diving Director. It must contain:
Names and surnames;
The skills of divers;
Their function in the team;
The various parameters planned and carried out relating to diving.
See the Info Sheet on the subject.
FFESSM:French Federation of Underwater Studies and Sports.
FLASSA: Luxembourg Federation of Underwater Activities.
FMAS: Monegasque Federation of Underwater Activities.
FOP: Permeable Foramen Ovale.
FQAS: Quebec Federation of Underwater Activities.
FSAS: Senagal Federation of Underwater Activities.
Vest: inflatable safety system allowing a diver to stay on the surface, to balance on the bottom or to facilitate his ascent. The vest is also used to carry your scuba tank on your back.
GPS: Global Positioning System. Satellite positioning system. Widely used to locate dive sites.
Rig a spacesuit: fit a regulator and attach a vest to a scuba tank.
Group guide: level 4 or CMAS 3* diver responsible for a dive.
Swell: undulatory movement of water, without waves.
Inflator: see "Direct-system".
Instructor: translated directly from English "instructor", this term simply means "monitor". In the French system, "instructor" designates a diving executive, responsible for the training of diving instructors. There is sometimes confusion between these two terms.
Club initiator: first level of teacher within the federations.
LIFRAS: Francophone League for Underwater Research and Activities (Belgium).
Manometer: device allowing to know the air pressure available in a diving bottle. There are surface manometers and submersible manometers.
MF1, MF2: Federal instructor 1st degree, Federal instructor 2nd degree.
Nautical or nautical mile: distance corresponding to 1852 meters.
Mistral: name of one of the very first regulators on the market. This legendary regulator is characterized by two black corrugated hoses.
Mono: abbreviation of single-bottle, as opposed to two-bottle.
Mooring: set consisting of an anchor, a chain and a rope (or an anchor and a chain).
Narcosis: toxic effect of certain gases which disturb the nervous system of the diver. In air dives, the gas responsible for narcosis is nitrogen. We also speak of drunkenness of the depths. This phenomenon is generally observed beyond 40 meters, sometimes from 30 meters for the most sensitive subjects.
Nitrox: oxygen-enriched air. The advantage is to reduce the quantity of nitrogen to limit the risk of decompression sickness. On the other hand, we dive shallower with Nitrox than with air. This type of diving requires special training.
Node: speed corresponding to one nautical mile per hour.
Ocelle: round spot on a part of the body of a fish (or any other animal) reminiscent of a "false eye".
Octopus: emergency exit grafted onto a first stage regulator. If we add the hose of the direct-system and that of the manometer, it gives the appearance of an "octopus".
OPI: pulmonary edema of immersion.
See the Info Sheet on the subject.
Dive computer: device indicating to the diver, during his immersion, the bearings to be made according to the time spent at the various depths reached.
Palanquée: group of divers performing a dive together. The word "palanquée" comes from "hoist" which is a lifting device. Originally, a hoist meant goods lifted by a hoist.
Bearing: during the ascent to the surface, stopping at a certain depth (most often between 6 and 3 meters) for a certain time to eliminate excess nitrogen in our body. Stop depth and time are indicated by dive tables or computers.
Compulsory landing: Level indicated as such by tables or dive computers. This term appeared in opposition to the notion of "optional level".
Deep stop: Special procedure aiming to achieve a first step deeper than that given by the desaturation model. This notion is now controversial and abandoned, at least for air dives.See the Info Sheet on this subject.
Safety stop (or optional): landing not indicated by a table or a computer, but carried out "for safety". This generally materializes by stopping for 3 minutes at 3 or 6 meters.
Lifting parachute: inflatable instrument for raising objects (anchor for example). There are lifting parachutes of all sizes, from a few liters to several tens of liters.
Landing parachute: inflatable instrument, brightly colored (yellow, orange or red in general), serving as surface signaling for the teams making their landings.
Diving passport: booklet materializing your level in diving and containing information of a sporting and medical nature.
Pelagic: which lives in open water.
Hanger: weighted rope or chain "hanging" in the water, hence its name. It serves as a landmark for divers.
Backup plan: The back-up plan is awritten document, adapted to the place and the dive practiced, regularly updated and brought to the attention of the diving director, the people supervising the groups and the scuba divers. It specifies in particular the methods of warning in the event of an accident, the contact details of the emergency services and the emergency procedures to be applied on the surface to the victim.
See the Info Sheet on the subject.
Exploration dive: underwater trip with no other objective than to visit the funds.
Technical diving: Diving for teaching or training in the activity.
Depth gauge: device allowing to know the depth at which one is located. Although widely used in diving, this term does not appear in the dictionary where it is preferred bathymeter.
PSI: (Pounds Square Inch: pounds per square inch). Like the bar, it is a unit of pressure measurement. 1 bar is 14.7 PSI.
Purge: system allowing the evacuation of the air contained in a vest or a dry suit.
Pyle Stop: See deep stops.
Récréatif, plongée récréative : Anglicisme (recreational) signifiant "plongée de loisir".
Requalification: operation consisting in filling a diving bottle with water and subjecting it to high pressure, in order to test its resistance. This operation can only be carried out by authorized organizations.
Reserve: minimum quantity of air to be kept in a bottle to ensure the ascent and any stops while keeping a large margin of safety. In general, the reserve is fixed at 50 bars.
Surf: waves return on themselves when they encounter an obstacle.
SCA: Approved Commercial Structure. Means, within the FFESSM, a commercial company specializing in recreational diving (exploration, training) and approved as such by the FFESSM.
Scuba diving suit: invented in 1766 by the Abbé de la Chapelle, the word scaphandre means "man-boat", from the Greek scaphé (boat) and andros (man). Today it designates the block/regulator unit allowing you to immerse yourself and breathe without linking to the surface.
SGS: Inflatable Stabilization System (see Vest or Stab).
Shorty: Wetsuit with short sleeves and legs, like shorts. Used in warm waters. Sonar: system allowing to know the depth, even to draw the seabed for the most advanced. Widely used to search for dive sites.
Stab: abbreviation of "stabilizing jacket" which means stabilizing vest. We speak indiscriminately of "one" stab or "one" stab.
Dive tables: tables indicating the stops to be made according to the time and the depth of the dive.
Timer: from "time" in English, "timer" historically designates an electronic instrument for measuring diving time. By misuse of language, this term is now synonymous with electronic depth gauge.
TIV: Technician in Visual Inspection. Person authorized to inspect diving cylinders.
O-ring (seal): joint which has the shape of a torus (a sort of ring), hence its name. O-rings seal between two parts.
Trimix: gas mixtures based on helium, oxygen and nitrogen. Reserved for experienced and specifically trained divers, these mixtures make it possible to reach greater depths than with air.
Tuba: tube about 30 cm long, allowing you to breathe while keeping your face immersed.
Valsalva: maneuver to compensate for the increase in pressure acting on the ears during a dive.
VHF:Very High Frequency. Radio communication system widely used at sea.
Constant volume: see dry suit.
© Extract fromPleasure Diving booksby Alain Foret at Editions GAP.
Any reproduction prohibited on any medium whatsoever without the written consent of the publisher and the author.